Alabama State University's First-Generation College Celebration

November 8
---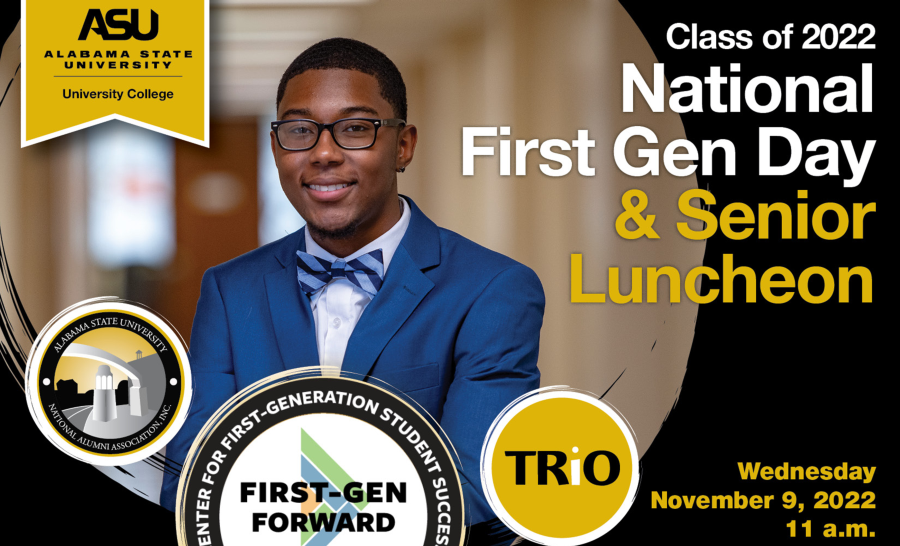 2022 First-Generation College Celebration
November 9th First Gen Senior Luncheon
November 8th First Gen Rep Your Vote Campaign
November 9th First Awareness 
2020 First-Generation College Celebration
Alabama State University (ASU)'s is proud to announce its First-Generation College Celebration activities, which will kick-off with a First GEN vote campaign. This campaign will involve using social media and hashtags in the week prior to the November elections, to encourage first-gen students to vote. Additionally, from November 3rd through the 6th, ASU will host a series of events including a panel discussion of first-gen faculty, staff, and student experiences, a first GEN movie night featuring the movie "School Days," and an on-campus first GEN Friday event. This activity will feature a photo booth, live music, and giveaways. We will live-stream all activities via social media.
2019 First-Generation College Celebration
In 2019, Alabama State University celebrated First GEN day with a radio broadcast panel discussion of the personal experiences of first-generation faculty and staff. We streamed the panel discussion via Facebook live.
2018 First-Generation College Celebration
The Alabama State University Student Support Services Program celebrated the 2018 First-Generation College Celebration with a personal interview highlighting the experiences and successes of upper-level student participants in the program. To listen to the interview tune-in to 90.7 FM WVAS Radio at 12:00 Noon CT, Friday, November 9, 2018.