Aspira Consulting's First-Generation College Celebration

November 8
---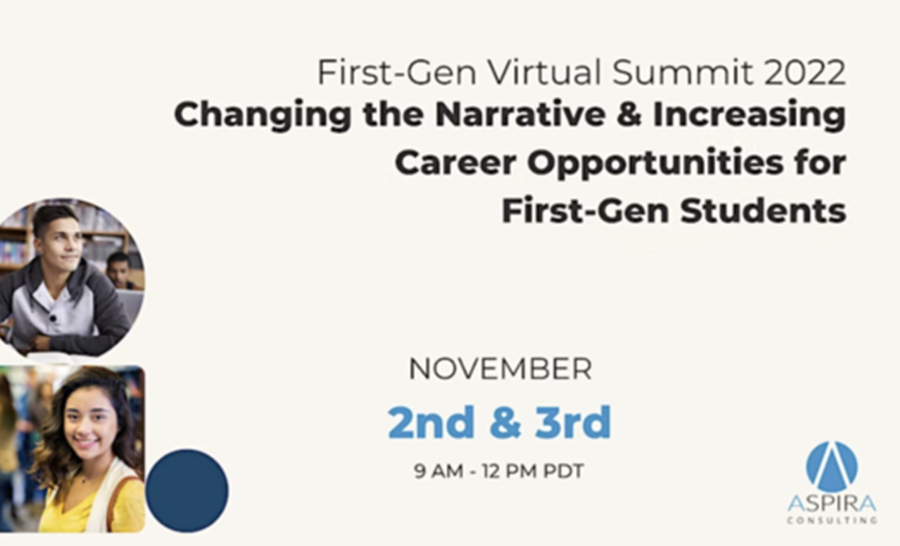 2022 First-Generation College Celebration
Are you a Career Development professional who supports first-gen college students? Are you a College Campus Recruiter looking to diversify your talent pool? Join us as we celebrate National First-Gen Day with the First-Gen Virtual Summit. This year's theme is changing the narrative and increasing career opportunities for first-gen students.
What will happen at the First-Gen Summit?
Inspiration: Our panelists of first-gen students and professionals will share their struggles and victories.
Learning: Our experts will share culturally relevant career and recruitment strategies to better coach and recruit first-gen talent.
Networking: There's no Zoom fatigue, only boring events. Our events are engaging and interactive with plenty of opportunities to connect with professionals across industries.
Two-Day Half-Day Summit Schedule
November 2nd from 9 AM to 12 PM PDT / 12 PM to 3 PM EDT
November 3rd from 9 AM to 12 PM PDT / 12 PM to 3 PM EDT
---
For the latest updates on this celebration, follow us on Twitter and Instagram and use #AspiraConsulting and #FirstGenProfessional to show your support!