University of Maryland, Baltimore County's First-Generation College Celebration

November 8
---
2020 First-Generation College Celebration
The celebration will consist of a half day of interactive workshops for students. Students will learn techniques for navigating institutionalized structures, planning for the future, and becoming connected to on-campus resources to ensure their progression through and retention at UMBC. Campus partners will include the University's Counseling Center, Financial Literacy Program, McNair Scholars Program, Academic Success Center, Academic Engagement & Transition Programs, Career Center, and Fraternity & Sorority Life.

We will use an online platform to host workshops and breakout sessions to connect students, campus partners, and campus resources. To conclude, we will pair participants with professional staff members and community leaders in a virtual "speed dating" style, one-on-one discussion.
2019 First-Generation College Celebration
The First-gen Network at UMBC hosted a First-Gen week to honor first-generation students on our campus. Information about how to study abroad, financial aid information, connecting on campus, and so much more occurred throughout the week.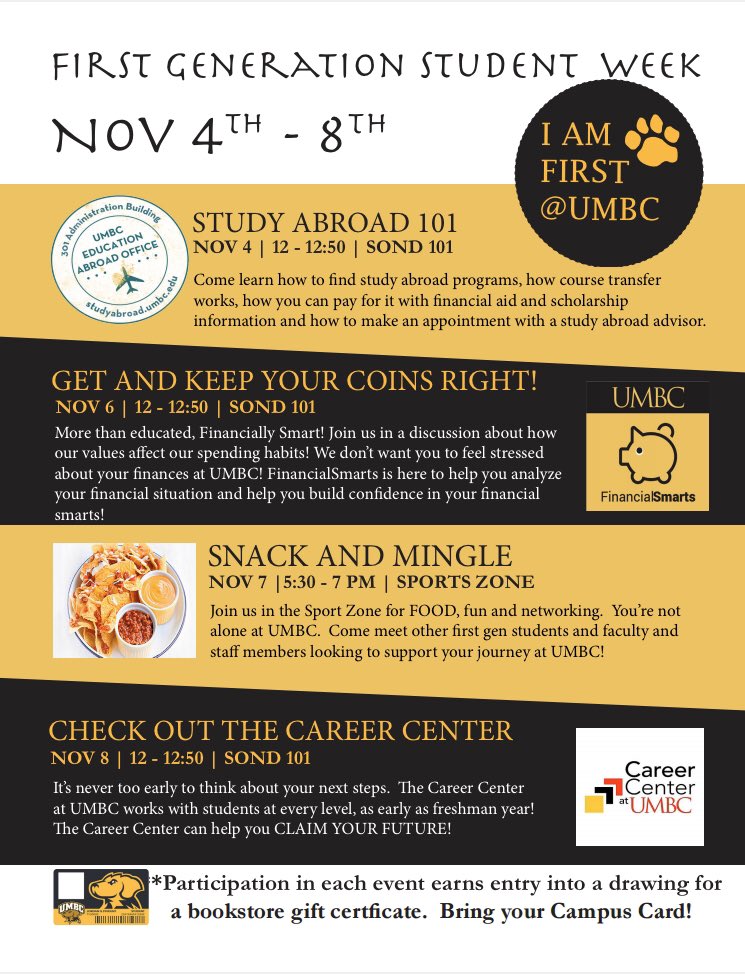 For the latest updates on this celebration, follow @UMBC_IAmFirst on Twitter and use #UMBCFirstGen, #IAmFirst, and #FirstGenerationCelebration to show your support!
---