101 Ways to Celebrate on Nov 8!
Sarah E. Whitley Ph.D., NASPA / The Center / July 12, 2019
---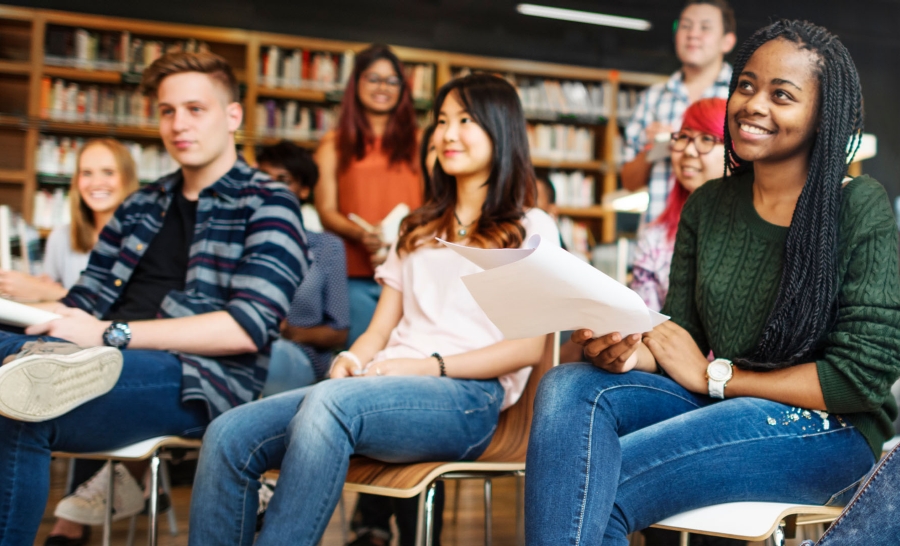 The Center for First-generation Student Success, in partnership with the Council for Opportunity in Education (COE), is proud to support the annual First-Generation College Celebration! On November 8, to honor the anniversary of the signing of the Higher Education Act of 1965, institutions around the country are invited to celebrate the presence and experiences of first-generation college students, faculty, and staff within your communities. To see many of the celebrations from the 2017, 2018, and 2019 events, click here! 
While we hope you will take advantage of this particular day for celebrations, please consider this a charge to begin or expand celebrating first-generation experiences throughout the academic year. To be an active part of First-Generation College Celebration on November 8th and beyond, please follow @FirstgenCenter and @COETalks and use #CelebrateFirstGen and #trioworks in your social media posts so the festivities can become a national event!
In an effort to spark interest and promote continued enthusiasm, the Center has developed a list of ideas to engage on November 8 and throughout the academic year. Feel free to use this list, add your own twist, share with colleagues, and get your students involved in the planning! Some suggestions require little-to-no resources while others may call for some creativity and support of campus partners, leaders, and your local community.
Please remember that some first-generation students, faculty, and staff may still be actively navigating this part of their identity. Please obtain permission before highlighting or recognizing individuals publicly.
---
Host a campus event or rally featuring notable first-generation alumni, faculty, staff, students. Empower first-generation student leaders to get involved in planning or to emcee the event.

Invite a team of dedicated faculty and staff to form a first-generation student success committee to begin considering current offerings and opportunities for improvement.



Image Credit: dailyiowan.com

Host panel discussions or forums featuring first-generation members of your campus community to discuss their college experiences.

Celebrate the legacy of TRIO programs on your campus. If possible, identify the numbers of students served or major milestones.

Coordinate an asset-based, positive language campaign to combat the use of deficit language surrounding first-generation college students.



Incorporate first-generation faculty experiences into classroom discussions.

Orchestrate listening sessions by administration, faculty, and staff about first-generation students' experiences and needs on campus.

Create multimedia materials of first-generation students for use in admissions, orientation, and campus development sessions.

Conduct interviews with trustees, administrators, and faculty who are first-generation. Consider profiling these individuals in your campus newspaper, websites, or on campus TVs.

Launch a first-generation student logo development contest to be used for programs, services, and events.

Create a social media handle specifically for first-generation students at your institution. Use this space to gather resource information and share opportunities from multiple offices in one location to streamline communication.



Distribute first-generation swag to promote your celebration events and continued opportunities.

Engage local and campus media to cover your celebrations and events. Prepare a short set of talking points to distribute so accurate and appropriate information regarding first-generation students is shared.

Host a breakfast, luncheon, or snack break for first-generation students to celebrate their success. Invite first-generation leaders, faculty, and staff to attend. Partner with campus offices, bookstores, local eateries, and gas stations to add gift card raffle to your celebration events.

Ask your university president or member of the leadership to send a public statement supporting first-generation student success.

Launch a lecture series for the university community to understand recent media and scholarship surrounding first-generation student success. Start by identifying faculty or staff on your campus who may have scholarship in this area!

Kick off a brown bag lecture series for faculty to discuss topics related to classroom experiences for first-generation students and offer approaches for improvement.

Not sure who on your campus is first-generation? Use your celebration as a way for faculty and staff to identify as first-gen and get them signed up to support first-gen students in some way!

Highlight the contributions of first-generation students to your campus community. Think about campus leaders, those contributing through service hours, academic achievement, recent award winners, student-athletes.

Create an infographic detailing facts specific to first-generation students on your campus to post in academic and student spaces and online.

Host first-generation alumni networking and career development events.

Offer resume and interview workshops to offer tips on how to best frame first-generation status in the hiring process.

Host a job recruitment fair featuring companies committed to hiring first-generation college students.

Curate a "we're glad you are here" campaign to remind first-generation students of the ways in which they contribute to strengthening your campus community.

Meet students where they are, literally! Set up stations in commuter student parking areas to offer breakfast-on-the-go or car winterization kits to students just to brighten their day and feel encouraged and encouraged.

Designate a campus athletics event as "first-generation" and recognize student-athletes, coaches, attendees who are first-generation. Offer a discount to attend.

Profile first-generation students and programs on university and departmental websites and social media.

Kick off a campaign to raise funds for first-generation student scholarships or program expansion.

Announce your commitment to host a graduation ceremony or celebration for first-generation students and their families. Hire a photographer to offer take-home photos of students and their families.

Send a letter or postcard home to the families of first-generation students to acknowledge the university's support of their attendance and to highlight successes.

Ask colleagues to identify how they are considering first-generation students on their programs and services. Offer a "first-gen friendly" designation to reward those doing outstanding work.

Ask colleagues to perform a "document analysis" of campus publications to see how first-generation students are included and celebrated. Work toward becoming a more student ready environment!



Partner with campus librarians to curate first-generation book collection. Ideas may include tips on first-generation student success, books with central characters as first-gen students, or authors who are first-gen. Create an online resource!

Create a visual display of famous or successful first-generation alumni or prominent leaders. Customize for academic spaces. (i.e., Michelle Obama, Sonya Sotomayor or Bill Clinton within law or politics spaces, Starbucks CEO Howard Schultz in the business school, Common and Viola Davis in performing arts areas.)

Create a first-generation "bulletin board in a bag" for resident assistants to post in their communities.

Host a first-generation graduate school fair. Discuss options for graduate school with students, costs and resources, and transition planning. If possible, offer grants to offset costs for entrance exams.

Create programs that also highlight the intersectional nature of first-generation student experiences. Consider beginning with veterans to coincide with Veteran's Day.

Invite student organizations who may already serve a large population of first-generation students through their membership to come together for a campus dialogue. Have each organization select one first-generation member to sit on a collective first-gen task force or committee to identify collaborative opportunities.

Coordinate letters or emails from your university president to each first-generation student to reinforce their place within your community.

Create a university first-generation Snapchat filter and ask students to create stories!

Launch a "Why I'm First" campaign where first-generation students anonymously or openly submit why it was important for them to go to college to be displayed on campus.

Announce the creation of recognition awards for "outstanding first-generation college student" and "outstanding campus advocate for first-generation students."

Organize a first-generation 5k race to raise funds for student scholarships or programs.

Garner the support of university food service for a "first-gen fill up" opportunity. Each first-generation student receives a special travel mug good for free or discounted beverages on campus.



Host a "university dinner" at the beginning of each academic semester and invite all first-generation students to attend. If you don't already do this on your campus, plan one for November 8!

Develop a "First-gen Fellows" program where first-generation students can shadow university leadership, faculty, staff, and community members to learn more about a particular career, interest, research opportunity, etc.

Identify and promote undergraduate research opportunities for first-generation college students.

Invite first-generation students from local high schools to participate in programming or celebrations. Develop mentoring relationships between first-generation college students and those in local high schools.

Support students in establishing a first-generation student organization on campus. Identify first-gen faculty/staff to serve as advisors.

First-gen Friday: offer a weekly engagement opportunity for students. This could be formal programming, a meal or social gathering, or simply a place to hang out.

Host a letter-writing campaign to remind state legislators, boards of trustees and state higher education agencies of the needs of first-generation college students.

Train campus ambassadors, tour guides, and orientation staff on how your campus welcomes first-gen students.

Create a programming series for graduating first-generation students to begin preparing for life beyond college.

Assemble a team of key institutional players to examine how a common definition of 'first-generation" is being used across campus. No definition? Work toward establishing one! Here is a helpful resource when considering a definition.

Identify key partners in Institutional Research who can be your first-generation data advocates! Schedule a meeting to discuss data needs and possibilities. 

Identify key partners in your Development or Advancement areas. Discuss how they can tell the first-generation story of your community and identify opportunities for fundraising to support efforts.

Offer free workshops for students to take strengths-based inventories and meet with counselors to discuss results and how to apply in decision-making.

Host a "First-gen Healthy Eating" where students participate in learning about healthy, affordable meals they can easily prepare while in college or when first starting out as a new professional. Work with Dining Services, nutrition program, or local restaurants, to offer instructions or donate supplies.

Orchestrate a campus tour specific for first-generation prospective students and families for use during admission or orientation programs.

Coordinate volunteer efforts with local schools between future first-generation students from elementary/middle/high schools and current first-gen college students.

Encourage your campus newspaper to offer a "First-gen Fridays" column that highlights the outstanding accomplishments of first-gen faculty, staff, and students or allows a first-gen student to contribute experiences.

Create a campus photo booth where students can take photos with signs denoting their first-generation identity. Be sure to use a hashtag and invite students to engage on social media.

Launch a local service experience or trip specific for first-generation students to increase their sense of belonging in the greater community.

Partner with faculty to begin a research study on first-generation experiences at your institution or more broad first-generation topics.



Partner with colleagues to submit a national or regional conference proposal on first-generation efforts or research.

Utilize the Center Online Learning professional development events to host a brown bag lunch for colleagues and engage in discussion.

Do you have a higher education doctoral or master's program on your campus? Offer a professional development opportunity for students to explore the first-gen identity. Center Online Learning professional development offerings are a good option for this, too!

Send out the first edition of a newsletter for first-generation students and families.

Offer a student panel between undergraduate and graduate first-generation students across disciplines to offer a student-to-student conversation about graduate education and venues. Identify mentoring opportunities!

Work with Alumni Relations to identify first-generation graduates and begin a communication plan to engage opportunities for engagement.

Work with local business owners to identify internship or work experience opportunities specific to first-generation students.

Announce the creation of first-gen-tailored, high impact practices such as living-learning communities or study abroad programs.

Create a glossary of commonly used institution terms and initiative efforts for a "jargon take down" campaign to create more inclusive spaces for students.

Invite campus partners who serve first-gen students, informally and formally, to a meeting to discuss approaches for collaboration and networking opportunities to better support more students.

Initiate an event between local two-year and four-year institutions to discuss first-generation transfer experiences and pathways.



Image Credit: www.carrollcountytimes.com

Develop unique graduation regalia that denotes the first-generation identity or signals completion of a first-generation initiative.

Have graduating first-generation students offer messages of advice to new first-generation students on the best resources and opportunities they sought in college.

Encourage faculty to offer first-generation specific office hours or change the name to "student hours" to clarify intent. Consider moving to a common student space for meetings.

Place an identifier in the university campus directory next to first-generation faculty and staff.

Choose books or media with a first-generation narrative for common reading programs.

Explore intersectionality. Partner with colleagues and students to discuss "first-generation-plus" identities (i.e., race, gender, socioeconomic status) at your institution.

Open services that support housing and food insecurities that have intentional marketing to first-generation students.

Open a professional clothing closet, marketed to first-generation students, to support preparation for interviews, internships, and first positions after graduation.

Write a blog for the Center's website detailing your institutional first-generation efforts. Share the product with your institutional public relations staff.

Connect with University Relations/Communications to run a series on being first-gen (could include faculty/staff, student, parent, alumni stories) in the weeks leading up to November 8.

Kick-off a first-generation student/faculty mentoring program.

Connect with first-generation prospective students and their families to highlight the celebration of the first-generation identity on campus.

Host screenings of documentaries and movies with a first-generation narrative and offer discussion groups.



Offer an internship and career fair that partners first-generation students with first-generation business owners.

Create a fact sheet of first-generation student data and qualitative stories specific to your institution that can be shared with senior leadership.

Conduct a campus audit of existing programs and services that are not explicitly serving first-generation students and identify opportunities for collaboration.

Create a display space on campus and ask students to contribute responses to a specific prompt. Suggestions include "I celebrate being #firstgen because…" or "My biggest supporters in attending college are…" or "I love being #firstgen at because…"

Literature supports that first-generation students who graduate are more civically engaged. Host a voter registration drive on your campus or a debate for local candidates. Encourage first-generation students to attend! Involve first-generation faculty from your political science or history departments.

Think about unique populations! Serving students who only attend online? Send an email to or host a virtual event with first-generation students to encourage pride in their identity and share resources they may not be aware of. Include a statement about the first-generation status in your syllabi.

Develop a "life skills" workshop series for graduating first-generation students to discuss housing searches, human resources paperwork, taxes, utilities, bank accounts, and more.

Partner with Financial Aid to kick off a FAFSA completion campaign. Work with first-generation students to gather and submit information early and help them begin to understand the verification process.

Host an interdisciplinary research symposium for first-generation students. Allow students an opportunity to get practice in presenting their work to students and faculty from across the institution while building community with other first-generation researchers.

Get moving! Partner with Campus Recreation to host a First-generation Celebration Intramural Tournament. Anything from basketball to kickball to ultimate frisbee would work! Use this opportunity to build community among first-generation students while bringing awareness to first-generation efforts within the community.



Increase first-gen representation. Work with colleagues to reserve spaces on student teams (orientation leader, resident assistant, peer mentors, etc.) for first-generation students. Work to directly recruit first-generation students for those positions.

Seek out a local or national grant opportunity to support first-generation programming or student needs. Work with colleagues to develop and submit a proposal. 
BONUS!
101. Submit an application for the Center's First-gen Forward program to receive national recognition for your first-generation efforts!