First Forward Fellows: The College of St. Scholastica Faculty Spotlight
Dory Kempf M.Ed., The College of St. Scholastica / The Center / August 21, 2019
---
After receiving the First Forward designation, I sat down with our institution's communication director to talk more about what this meant for The College of St. Scholastica (CSS). I talked about wanting to bring together faculty, staff, and students to further our first-generation efforts and suggested calling this working group, First Forward Fellows. The name stuck and within just a couple of days 45 community members volunteered and committed their time. We currently have over 60 members. We will be inviting more to join in the fall, but are proud that about a third of our First Forward Fellows are faculty. 
My original intention was to write a very practical and informed piece about what our institution is doing to help advance efforts on campus focusing on improving the success of first-generation students and our faculty collaborations. However, as I started to collect content for this piece, it became obvious that this post should be dedicated to telling our faculty stories.  Having first-generation faculty on our campus makes a difference! Below you will find CSS faculty members, their stories, and why being first-gen matters.
---
"Neither of my parents graduated from high school in the traditional sense; both were GED recipients, lived just above the poverty level for years and college was never in their plans. I came back to college to transition my AA into a BA/MA all while raising five children and a supportive but, unemployed spouse at home. As an undergraduate student employee, I had the great fortune to coordinate a program designed for non-traditional age students, re-addressing their academic pursuit (ENCORE). In retrospect, the vast majority of us were first-gen, and our hurdles and challenges continue to appear for the first-gen students I see in my classrooms today - financial navigation, academic planning, and time management. I want the current first-gen students to know you are never alone, that others came before you and others are still here amongst you."
Madonna M. LeBlanc, MA, RHIA, FAHIMA, 
Assistant Professor, Department of Health Informatics and Information Management
---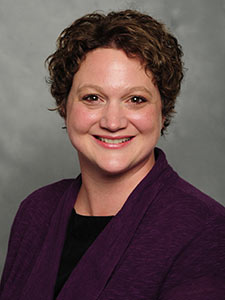 "I am a first-generation college student who was raised in rural Central Minnesota on the third generation dairy farm.  I was raised in rural poverty with my parent's annual income in the range of approximately $12,000 for a family of four. Throughout my elementary and high school education, I qualified for the federally funded free lunch program based on federal poverty guidelines. During my sophomore year of high school, I was enrolled in the post secondary education option (PSEO), in order to have my first two years of college funded by the government. This meant, I was 18 years old when I enrolled as a junior in college with no direction for a college career, and no support for choosing a college, a major, completing applications, essays, and Financial Aid forms. I didn't know where to start or even what questions to ask, how to schedule a meeting with campus counselors or advisers, and therefore did not approach any college employees for help either. I transitioned to two undergraduate colleges before completing my first degree. My only face-to-face interaction with college personnel during that time was with financial aid, asking questions to complete the FASFA, it was returned to me multiple times for missing information that needed to be completed. 
I tell my story to all my students as a first-generation college graduate to raise awareness that not everyone has the privilege of support when transitioning to college and so that if there is anyone who has questions, I may be somewhat approachable based on my own experience. 
Being a First Forward Fellow aligns with my personal experience and values as well as my academic and professional passions."
Shelly Richardson, DSW, LICSW, Assistant Professor and Chair, Social Work Department
---
 "I grew up in a family of five children in a part of town that was red-lined - which is to say you could not get a mortgage loan due to the discrimination against impoverished blighted areas of the city. My father did not finish high school due to a shattered knee and rheumatic fever, and my mother finished high school only because her teachers 'understood it was impossible to study when you worked from 3:00 pm - 1:00 am every day.' Both of my parents grew up in single-parent families. 
My parents valued education and made it clear that all their children would go to college. They had no clue, however, about how to guide me through this process. I began college at age 16. I did great for a few months, but working full-time nights as a nursing assistant was not conducive to good grades. It took seven years to complete my geography degree. A traumatic brain injury made it impossible to focus in graduate school and I dropped out. I turned to nursing and after several false starts, got my four year degree.
As a nurse, I focused my career on providing care to the most impoverished and disenfranchised populations - the groups my parents and grandparents came from. I felt the need to both pay it forward for all the help my parents had received from healers, as well as provide care and education to those who felt the least accepted or supported by the traditional medical system. Eventually I obtained my Master's and began teaching nursing.
It is my belief that I can impact far more people's lives and health by growing nurses who CARE about their patients. I strongly believe that each person's situation is unique and requires an open heart of understanding - be they a student, a patient, or the homeless person on the street. Everyone matters!"
Candace Ginsberg, MAN, Assistant Professor in the RN to BS Nursing program 
---
"I left home at the age of 16. I experienced homelessness and the foster care system, but I managed to finish high school and applied to college. I've been asked how I kept going and why I pursued higher education. Honestly, I don't know, I just kept going. I was surviving in the best way I knew how and I was lucky. It was not easy; in fact, it was incredibly difficult.  I worked full-time and repeatedly attempted full course loads, failed several courses and was put on academic probation. I didn't seek help, in part, because I didn't know how, but also, because I was ashamed of my poor academic performance. I thought that I should know how to be successful so I didn't want to appear to be as stupid as I felt. Learning to navigate financial aid, academic planning, and efficient study habits while working full-time to support myself was only part of the challenge as a first-generation student. The non-academic challenges also impacted my success. I couldn't afford to live in the dorms and I worked most evenings and weekends so I didn't participate in campus social activities or extracurriculars. I found it hard to relate to the typical 18-year-old college student and I felt I didn't belong. I struggled with depression and crippling self-doubt. I decided to take some time-off from school.
When I returned to school I enrolled part-time, changed my major and reduced my work hours. After seven years of hard work and determination I earned my Bachelor's of Science degree in Microbiology. After graduating, I worked as a laboratory technician and applied to graduate school; I was accepted into a doctorate program in molecular genetics! I earned a salary and had health benefits as a graduate teaching assistant, so, for the first time in my life I had the luxury of being a full-time student without needing a second job. I earned my doctorate and was awarded a National Academies of Sciences Post-doctoral Research Fellowship. I am very passionate about scientific research, but I wanted to share this passion with the next generation of scientists, so I left a full-time research position to begin my teaching career.
I became a First Forward Fellow because I understand first-hand the barriers and challenges faced by many first-generation and low-income college students. In my position (formerly as department chair and currently as a member of the Board of Trustees), I am working to address the systemic and cultural barriers that create inequitable access to higher education. I know that when these barriers are overcome (or, better yet, eliminated) we can soar and I hope that my story can help students overcome challenges to achieve success."
Kara Thoemke, PhD, Associate Professor of Biology