First-gen Student Organization Creates Badge of Honor at UNK
Kyle Means, University of Nebraska Kearney / The Center / April 13, 2022
---
Starting something new can be scary and intimidating. At the University of Nebraska at Kearney (UNK), several first-generation students continue to face their fears and overcome challenges to create positive change. From being the first in their families to attend college, to being the first class of a new student organization, these students have set a strong foundation for themselves and others.
It started with a question, "How can we bring first-generation students together more effectively?" For UNK student and eventual homecoming king DJ Hardwick, it was a lightbulb moment back in 2020. Hardwick is soft-spoken, yet his words carry the kind of weight that causes people to pause and listen intently. He's actively involved in a variety of activities and groups on campus. He's also a first-gen student, so it seemed fitting that he would be the one to suggest creating a new student organization for first-generation students. People got on board with his idea quickly.
A group of UNK faculty and staff had been working together up to that point to generate more support for first-gen students and increase the sense of first-gen pride on campus. Perhaps that helped encourage students to step forward eagerly and participate in the initial Zoom meeting for the first-generation student organization in the fall of 2020.
That first year, there were five active members who met regularly, connected with one another, shared their personal experiences, and reached out to other first-gen students on campus. By year two, the number of active participants grew to more than 25 students.
The current student organization president, Sierra McKenny, is majoring in business administration with an accounting emphasis and pre-law track. She's also taking classes fully online. So how did UNK get a fully online student to become an active participant in a student organization? It requires a student like McKenny to take that first step. She took the initiative to be more connected through her online experience. Now, she's inviting other online students to do the same. As the online community grows at UNK, there's a concerted effort to include them in the overall college experience. Thanks to Zoom, recorded video content, and live streaming, this is more possible than ever before. Yet it takes an intentional, consistent effort of outreach to those students. McKenny is using her leadership role to invite other online students to meetings and activities.
Stronger connections. Deeper, more meaningful experiences. Successful outcomes. Those are the goals of UNK's first-generation efforts. It takes a special group of organized students to make it all happen.
Back on campus, this semester the group is hosting "First-Gen Friday Lunches," where other students are invited to lunch with faculty and staff on the first Friday of each month. The group discusses challenges and resources available to help. It's all part of an effort to connect people and make them feel part of something bigger than themselves.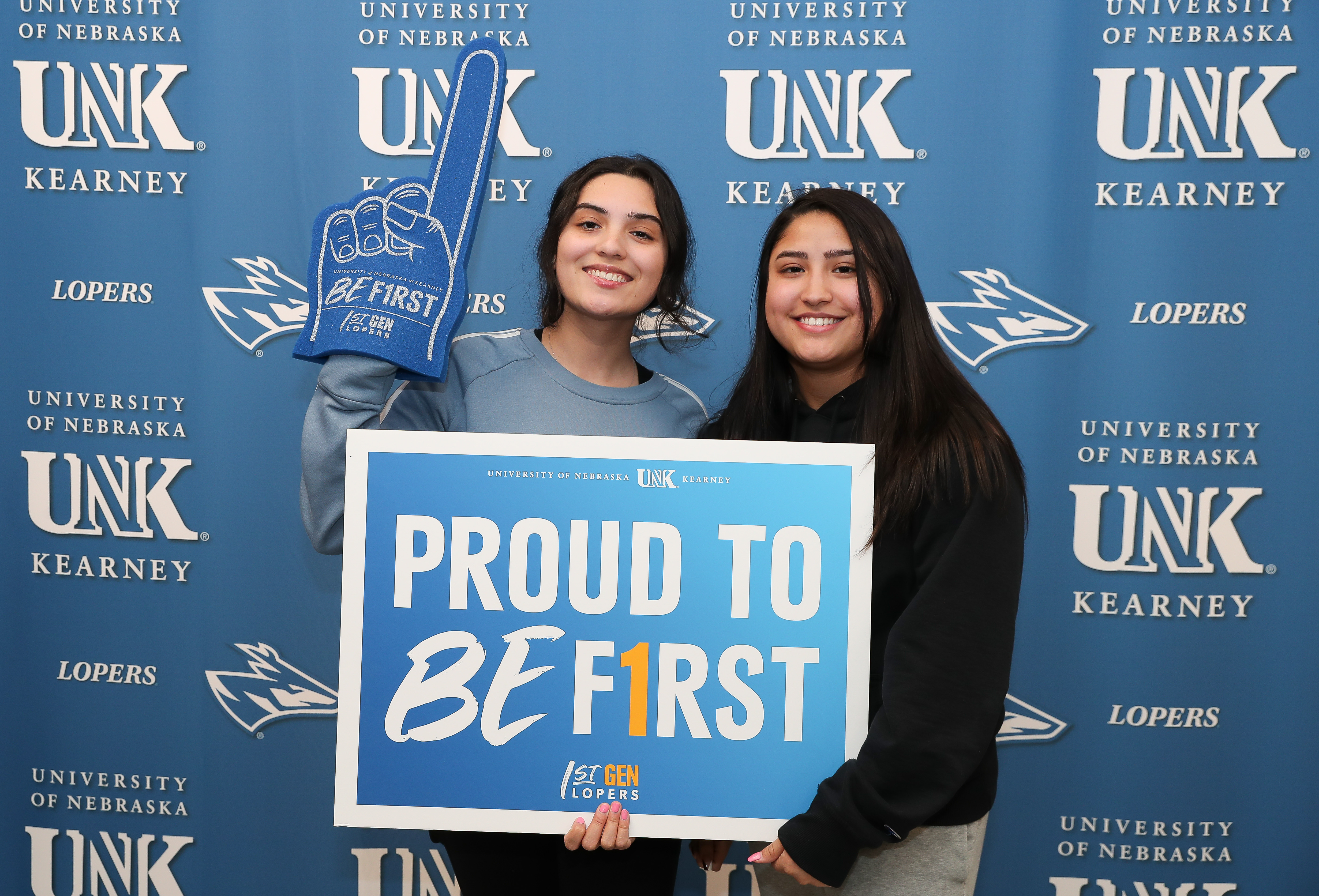 The more layers of support you can create for first-gen students, the better. UNK is known for having outstanding support of its students and strengthening relationships. Therefore, students feel more confident and comfortable knowing they have people to turn to in times of need.
With over 40% of the total student population classified as first-generation, UNK has become a first-generation destination in Nebraska. Stronger connections. Deeper, more meaningful experiences. Successful outcomes. Those are the goals of UNK's first-generation efforts. It takes a special group of organized students to make it all happen. These students are proud of their first-gen status. They wear it as a badge of honor. They understand the positive impact they can have on others who are facing the same challenges of navigating the college process. Their stories are inspiring. Their efforts are admirable.
UNK can be proud of its bold students who continue to rise to the challenge and set a great example for future generations. These students are the first…but they definitely won't be the last.
---
For more information on University of Nebraska Kearney's approach, please visit their website here.