First-Generation Student Wins Prize in Elie Wiesel Ethics Essay Contest
Nicole Chisari M.A., / The Center / November 08, 2018
---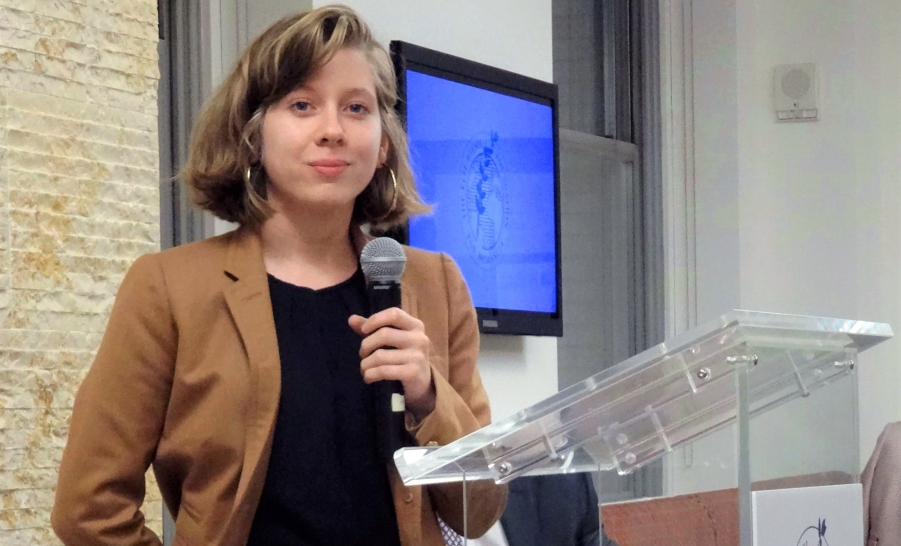 First-generation, low-income students face a unique set of challenges when they enter college. No one knows that better than Winthrop University senior Ana Barkley.
For much of her sophomore year, the Sumter, South Carolina, native kept a journal in which she tried to work through the issues and questions, both personal and universal, she encountered.
Her essay drawing from her journal, Lemonade from Lemons: the Ethics of Suffering, Oppression, and Newfound Privilege, just won an honorable mention from the Elie Wiesel Foundation Prize in Ethics Essay Contest. Read her winning entry.
"The challenge was wrapping it up somewhat succinctly to write a 4,000-word essay, while also creating a message that can be universally applicable," said Barkley, a choral music education major. "That's why there are several themes in the essay: being first-generation, classism, the question of who deserves what and why, what to do with pain and my obligation to everyone I'd felt I'd left behind. I didn't automatically think to write an essay about my mom or being first-generation. It was more that I wanted to fit all these pieces of the puzzle together in a way that was meaningful and productive."
The essay begins with Barkley riding in her father's truck on the way to her mother's apartment. Looking around the kitchen, Barkley recalls how, the more time she spends at college – "a place that wholly liberated me"—the harder it is to return home. She examines what it means to come from poverty, and the extra effort she takes to obtain resources she feels are taken for granted by her peers. She dedicates the essay to her mother, who survived a car accident that left her quadriplegic and killed Barkley's older sister, Leah.
Leslie Bickford, director of the Office of Nationally Competitive Awards (ONCA) and associate professor of English, encouraged Barkley to enter the essay contest. This office, along with the McNair Scholars program, is just one of many Winthrop offers to help first-generation, low-income students pursue that degree.
"I have her to thank for everything," Barkley said.
Barkley wrote most of her essay in two sittings and spent weeks editing it with Bickford.
"Finishing the essay also provided me with a deep sense of closure for some of the unpleasant things I'd gone through, and replaced it with a newfound focus," Barkley said.
She won $500 and a trip to New York City to attend the awards ceremony and a seminar with United States Holocaust Memorial Museum's Sosland Foundation Fellow Dr. Alan Rosen.
At Winthrop, Barkley serves on the Council of Student Leaders (CSL)'s campus outreach committee and as a representative for the College of Visual and Performing Arts. She's also a McNair Scholar.
In high school, she visited Winthrop each year for all-state chorus and knew it was the best place to go for music education.
After graduation, she plans to pursue a master's degree in sociology and education and eventually a Ph.D. in education. She hopes to teach and conduct research to target issues within the intersection of economic inequality and education.