Four Years and a Legacy
Whitley M. Johnson M.A.Ed., University of Miami / The Center / April 17, 2020
---
Empower Me First (EMF) is the University of Miami's (UM's) first-generation student support initiative. Housed in the Office of Academic Enhancement, the program serves over 1,800 first-generation undergraduate students by providing general advising, academic support, resource referral, and programmatic outreach. Intentionally developing relationships and collaborations with our many campus partners has allowed EMF to build a community where first-gen students are seen, heard, and celebrated.
Getting Started
EMF started as a blank sheet of paper with no lines I often say. I was hired in Fall 2016 with the charge of creating a first-generation student program, and four academic years later, it has made a huge impact on hundreds of students. Although there was already a significant first-generation student population present when I started my first year as Senior Academic Advisor for Diversity and Inclusion, I was still able to create a program that touched all of them. "I was finishing up my senior year when Empower Me First began, and I was hopeful to see the change that the initiative would bring to the first-gen community at UM. Although I would have loved to see a first-gen student resource during my early undergraduate years, Empower Me First emerged when I was preparing to leave for graduate school and provided me with a source of knowledge, comfort, and support," said Crystal Lam, Co-Founder of First-Generation U, Class of 2017 UM alumna, and recent alumna of George Washington University's Master of Public Policy program.
"Through EMF, I was able to recognize I wasn't alone in navigating college as a first-generation college student. There were hundreds of other students like me that experienced similar struggles."
Mentoring
One of our unit's signature efforts is its mentoring program, which pairs first-generation undergraduate students with a faculty or staff member. Our mentoring program is special in that its reach and impact spans our institution's multiple campuses! Our mentors include first-gen graduate or advocate colleagues who work in the Provost's Office, the Division of Student Affairs, Academic Affairs, various schools and colleges, Enrollment Management, Human Resources, and other functional areas. Our mentoring program helps our students build social capital on and off campus. It's a rewarding experience for both our mentors and our mentees.
Monica Colon, a former UM transfer student and Class of 2019 alumna, shares that, "Empower Me First also provided me with the opportunity to participate in a mentoring program: allowing me to connect with a professional faculty member within my major. We would discuss our goals throughout the program and assist one another in achieving them. It was a great way to gain more insight into a career within my major and the perfect networking opportunity. I am truly grateful for Empower Me First because I learned graduating college as a first-generation student is a huge achievement and something to be proud of. It helped me grow confident in myself by providing support, resources, and programming specifically for first-gen students. I look forward to seeing the program grow and provide other students the same community it provided me." Monica was excited enough to create a group chat for mentees in the inaugural cohort to encourage engagement with one another and within the EMF programs offered.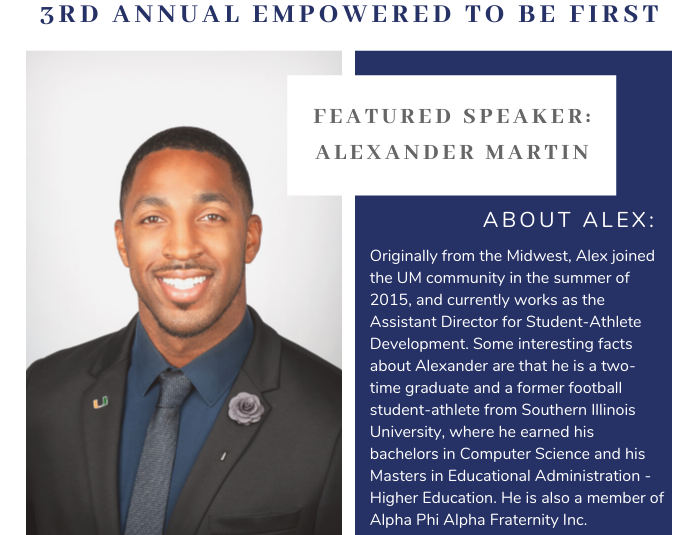 Sharing Stories
Another signature program, Empowered to Be 1st, highlights first-generation college graduates who are faculty and staff at the university. Our panel and keynote speaker event provides our faculty and staff with the opportunity to share their stories with our university community and give tips to our current first-gen students and colleagues who are interested in better supporting our first-gen population. Our speakers' stories often bring to life the intersectional identities of first-gen students. This year's speaker, Alexander Martin, Assistant Director for Student Athlete Development at UM proved just that. Black male, computer science major, student athlete, and member of the National Pan-Hellenic Council (NPHC) Greek life community are just a few of his identities. Mr. Martin was the first in his family to earn both a bachelor's degree and a master's degree, and he will be the first to earn a doctoral degree in 2021.
Engaging Alumni 

 
First-gen has become a visible and celebrated identity on our campus, and awareness about our initiative continues to grow. Alumni that graduated well before the initiative began are reaching out and asking to engage with our students. Many of them often express that they never knew "first-gen was a thing," and they wished they had something like this when they were in school. "I never paid attention to being a first-generation college student. In some ways, it felt like a burden. While there were many struggles I faced, I always pushed forward to be the first in the family to graduate. I met Whitley [the author] for advising my sophomore year and was introduced to Empower Me First (EMF). Through EMF, I was able to recognize I wasn't alone in navigating college as a first-generation college student. There were hundreds of other students like me that experienced similar struggles," said Colon.
Building a Legacy
Ultimately, EMF has developed a number of support initiatives including student and family orientation sessions, supplemental advising, a first-year experience pilot program, and yield efforts to prospective students. We are proud of these offerings, and our success has inspired us to work even harder for our students. Four years in and the legacy continues!
---
To learn more about the University of Miami's Empower Me First initiative, please visit their website here.