Highlights from the Inaugural First-generation Student Success Conference
The Center / June 18, 2019
---
From June 16-19, 2019, over 700 faculty and staff from across the United States and ten international countries joined us in Orlando, Florida for the inaugural #FGSS19. Throughout the conference, the enthusiasm and passion toward advancing the success of first-generation students was palpable.
With over 1400 in total attendance across the joint NASPA Conferences on Student Success in Higher Education, participants were able to explore sessions specific to Assessment, Persistence, and Data Analytics, Closing the Achievement Gap, Student Financial Wellness and First-generation Student Success. The convergence of these four events elevated the student success conversation to allow participants opportunities to reimagine their approaches and learn from those experiencing positive results with institutional initiatives.
"This inaugural conference dedicated to student success brought together thought leaders and passionate practitioners, including representation across the academy. Student success is all of our responsibility, we all play a significant role!" shared Senior Director, Dr. Sarah E. Whitley.
A few highlights from the conference include:
Friday, June 14, 2019, marked the Center for First-generation Student Success' second anniversary! To celebrate this milestone, the Center hosted a reception and enjoyed these delicious cupcakes because what's a celebration without cupcakes?
---
We launched the 2019-2020 First Forward cohort! With over 180 faculty and staff in attendance, institutions engaged in a unique professional development opportunity, including a welcome from NASPA President and CEO, Dr. Kevin Kruger and Dr. Stephanie A. Gordon, vice president for professional development, as well as a tailored keynote presentation delivered by Dr. Rebecca Covarrubias, associate professor of psychology and faculty director of the Student Success Equity Research Center at the University of California, Santa Cruz. Institutions dedicated time to a goal-setting exercise and shared how their institution will you move #FirstgenForward!
---
With over 200 submissions from colleges and universities across the country, the #firstgen Swag Display included many examples of how institutions are celebrating the first-gen identity and accomplishments! Toward the end of the conference attendees were able to bring some of the swag home with hopes of implementing the idea upon their return. Stay tuned for the 2019 First-Generation College Celebration, it will be our largest celebration yet!
---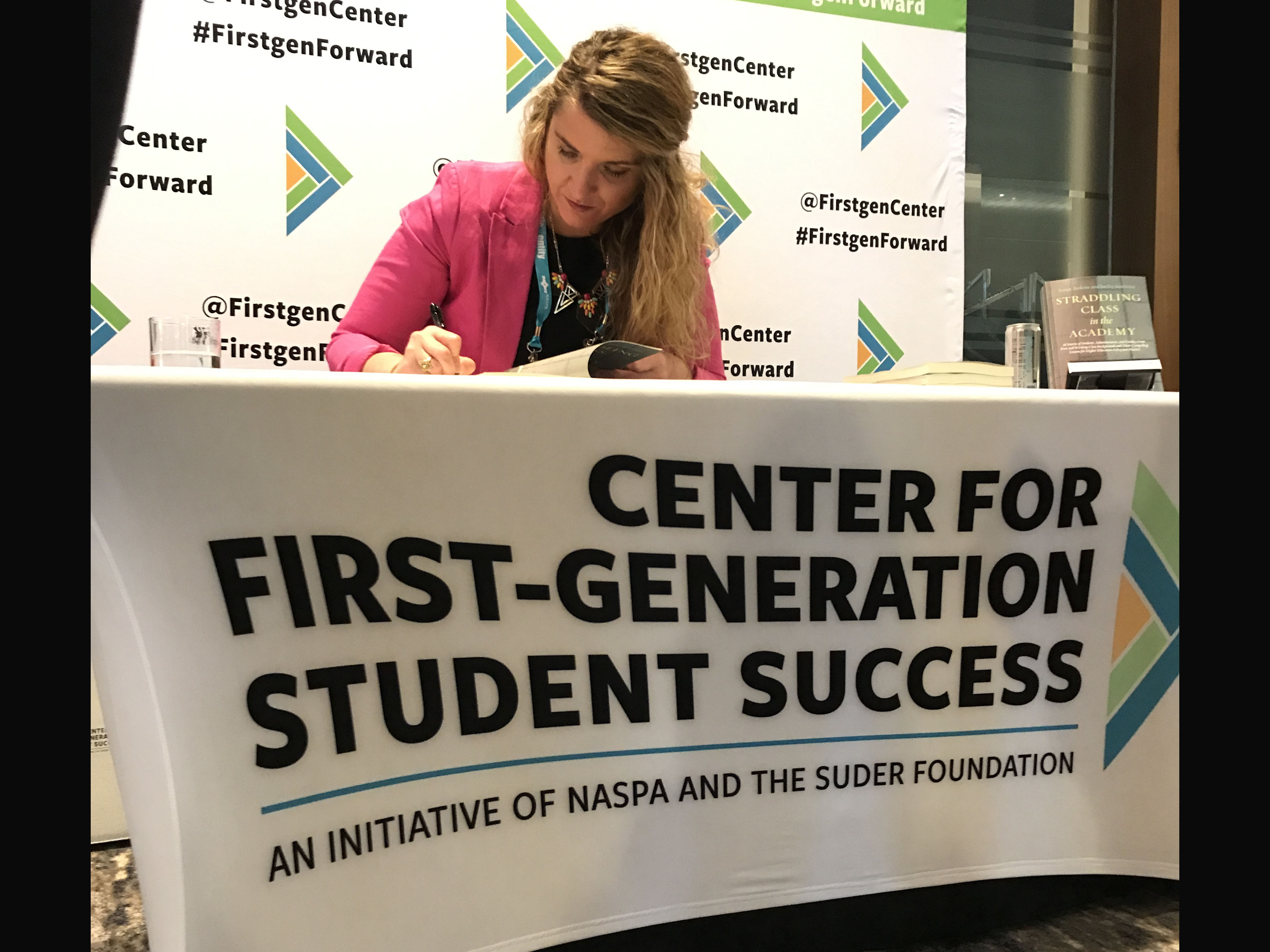 Dr. Sonja Ardoin signed her latest book, Straddling Class in the Academy, co-authored by dr. becky martinez. Through 26 narratives of individuals from poor and working class backgrounds – ranging from students, to multiple levels of administrators and faculty, both tenured and non-tenured – this book provides a vivid understanding of how people can experience and straddle class in the middle, upper, or even elitist class contexts of the academy.
To learn more, click here.
---
The FGSS Plenary was delivered by Dr. Rebecca Covarrubias, associate professor of psychology and faculty director of the Student Success Equity Research Center at the University of California, Santa Cruz, and spoke to Centering the Voices of Low-income, First-generation Students of Color to Challenge Dominant Cultural Practices in Higher Education. The conference also included one pre-conference workshop navigating strategies for Increasing the Institutional Sustainability of Your First-generation Student Program; 60 education sessions; scholarly papers; many poster presentations; and two featured panels: one shared experiences for establishing regional first-generation student success conferences and the other discussed formal and informal strategies used to promote first-generation student success through organizational leaders.

 Thank you for joining us and committing to move #FirstgenForward! We hope to see you in Baltimore, Maryland for #FGSS20!