The First of Many: Introducing First-Generation Celebrations on the Hilltop
Olivia Robles, Saint Anselm College, The Father Jonathan, O.S.B. Center for Intercultural Learning and Inclusion / The Center / December 14, 2022
---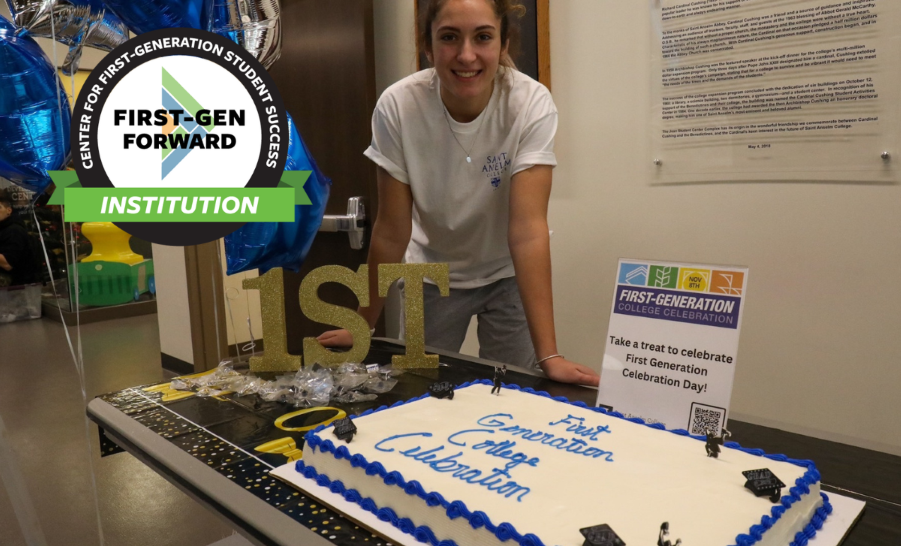 In honor of the National First-Generation College Celebration Day on November 8th, Saint Anselm College celebrated the more than 200 students who identify as first-generation college students with unique programs spread throughout the day. It was a pleasure to organize the campus-wide events on behalf of the Father Jonathan, O.S.B. Center for Intercultural Learning and Inclusion and the TRIO Scholars program. By arranging activities to show first-generation students that they matter and help them feel a sense of belonging here on the Hilltop, we hope to raise awareness on what it means to be first-generation and express our commitment to the first-generation community.
My Experience
I had no idea what it meant to be a first-generation college student or that I was one myself before my involvement with the Intercultural Center as an intern in charge of First-Generation programs this past Fall. The more I immersed myself in learning about the first-generation population after accepting the position, the more the difficulties I had as a young adult, in high school, and in college began to make sense. As the first person in my family to decide to pursue a higher education, I experienced anxiety and doubt during the application process and the first few weeks of my first year. I struggled to select my classes, locate campus resources, and accumulate enough money to participate in activities that all of my new classmates were doing. I'll admit that compared to most others around me, it took me longer to find my footing, but I gained a lot from my hardships. Through my basketball team, I was able to connect with a supportive community and find professors who could serve as mentors. Don't be reluctant to ask for help from deans, counselors, and academic resources when you need it; first-generation students are not alone in this.
I'll admit that compared to most others around me, it took me longer to find my footing, but I gained a lot from my hardships.
Spreading Awareness
Until this year, Saint Anselm College has never taken part in first-generation activities. My team and I at the Intercultural Center began educating the campus of our support for the first-generation community at the beginning of the semester. We began by setting up an Instagram account to showcase our faculty, staff, students, and alumni who were first-generation college students. We created a segment called First-Generation Friday where we would highlight a student's individual successes in the classroom, community, and athletics, as well as, featuring a member of the first-generation community every week via an Instagram spotlight to display their importance on the Hilltop. In addition, we used the Intercultural Instagram to share pertinent information and statistics concerning first-generation college students as well as additional comments from first-generation leaders like Michelle Obama in order to raise further awareness among our community.
The Celebration
On November 8, 2022, the Hilltop was transformed into the site of its first ever First-Generation College Celebration, making it a day to remember. The community got together to celebrate being the first and being first-generation supporters, and the day was full of smiles and memorable moments. As a symbol of solidarity, many offices on campus distributed resources, treats, and swag to kick off the morning celebrations. Students met for a cake and coffee ceremony in the Jean Student Center in the afternoon. There, they could mingle with other students and faculty, participate in raffles, and get free first-generation t-shirts for following the Instagram page. I had the privilege of moderating a panel discussion that night that included four members of our faculty/staff, and one student-athlete. It was the ideal way to wrap up the celebration. Students gathered to hear guidance from members of our first-generation community who had personally struggled and to hear about the sacrifices their families had also made. It was a really instructive evening that gave students the chance to compare their experiences with those of people who had gone through similar things but had found success as a result of their perseverance and dedication. As we commemorate what it means to be the first here at Saint Anselm College, we have unlocked a brand-new tradition that we aim to enhance every year.
---
For more information on Saint Anselm College's approach, please visit their website here.