Third Annual National First-Generation Celebration Week at UW Tacoma
Yanira Pacheco, / The Center / November 18, 2019
---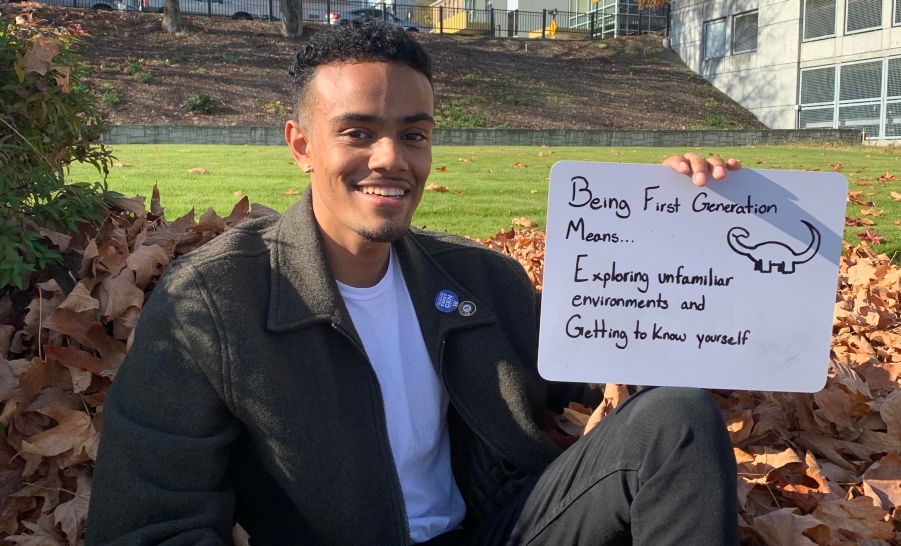 The office of First Generation Student Initiatives at the University of Washington Tacoma celebrated their third Annual National First-Generation College Celebration by hosting an entire week of events for the UWT community. It began on November 4 and November 5, 2019, with "The First" activity. Students were asked to share what being "The First" meant to them while taking photos at their favorite locations on campus. One student said "Being First-Generation means facing adversity" and another said "Being the First means overcoming obstacles and breaking down past traditions." Throughout the entire week faculty, staff and students showed their first-gen pride by wearing our "Celebrate First Gen" buttons!
On November 6, 2019, students also shared their commitments to achieve their academic and personal goals on our "Pledge of Commitment" board and took photos on a photo booth. Their commitments were focused on their path to graduation and success. One student said "I take the pledge to be the first in my family to get a degree so that I can guide my little brother and future children in a way that no family member could do for me." Another student said "I am glad that I'm changing the path for my family."
On November 7, 2019, faculty and staff were encouraged to take part in the festivities by signing the board "I Support First Gen Students" and sharing how they could support first-generation students on our campus. A staff member share: "Holistically supporting students and advocating for them. Giving essential tools to dismantle barriers to ensure success at UW Tacoma" and another faculty member shared that they will show support "By listening to their stories, validating their experiences, and doing my best to connect them with whatever resources they want or need." Our office will collect all the tips and strategies shared by faculty and staff and develop a guide with strategies on how to support first-gen students on our UWT campus. This guide will also include an "I Support First Gen" sticker for faculty and staff could display in their offices.
During the National First-Generation College Celebration day, November 8, 2019, a big celebration was held to commemorate the successes and bring the first-generation community together. The event was hosted by the Coordinator of First Generation Student Initiatives and welcomed by our Vice Chancellor for Student Affairs. The keynote speaker, Vice Chancellor for Student Life, shared his experiences as a first-generation student and the motivations that led him into achieving his professional goals in higher education. This event included the "We Are First Generation Stories" poster campaign unveiled by the Senior Director of Student Transition and Success. The campaign featured the voices of twelve first-generation college students, faculty, staff and alumni from UWT.
The selected stories will be displayed in a prominent location around campus through posters and will be highlighted in the First Generation Student Initiatives' website and social media accounts throughout the academic year. We had a wonderful week of celebrations and we are looking forward to next year!
Check out the Instagram Moment. Also, be sure to follow them on Instagram, Facebook, on view their website.