Twists and Turns: The University of Maine at Farmington's First-gen Celebration
Marilyn Wegner, M.S.Ed., University of Maine at Farmington / The Center / July 09, 2020
---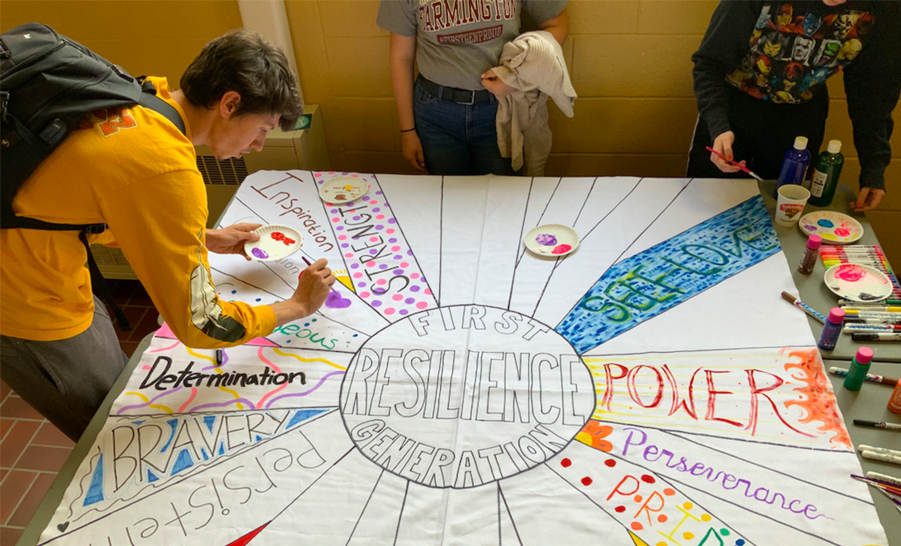 In October 2019, staff from Residence Life and TRIO, the Vice-President for Student Affairs, and several faculty members reviewed the University of Maine at Farmington's (UMF) two previous First-generation Celebrations. Eager to expand the Celebration, we asked ourselves the following questions:
What worked?
What needed revising?
Would a first-gen art show work? Why or why not?
The answers to these questions informed our to-do list and raised further questions. We knew we needed to reserve rooms and order T-shirts, but who would take the student portraits for our well-loved #firstgenproud posters? Who would lead the opening proclamation ceremony? As our list of questions grew, so did our doubt. Could we pull it off again? Would faculty and staff come if we did it in November during pre-registration? Would students come on a Friday when classes were in session?
Ultimately, our doubts proved unfounded, as UMF administrators, faculty, staff, students, and community members flocked to our First-generation Celebration.
The theme of our 2019 Celebration became one of resilience and perseverance, not one of barriers.
At 7:00 a.m. on a blustery November 8, first-gen students arrived at the TRIO Johnson Scholars lounge to inflate balloons. They volunteered in small groups to hang posters and deliver food to our Celebration venues. Later that morning, they gathered again on the Mantor Library Green to hear the joyous First-Gen Day proclamation delivered to them by first-generation graduate Lisa Ellrich, Director of Admissions at UMF. They also came to see Taylor, a senior art and music major, perform on her guitar. Though her fingers stiffened from the bitter north wind, Taylor managed to find her chords and sing her lyrics beautifully.
Students came to pop confetti cannons, make buttons, paint their first-gen resilience banner, play first-gen trivia, share carnival food, and see the artwork of fellow students, faculty, and staff members. They came to share their first-gen stories and hear the stories of others (and win UMF #firstgenproud T-shirts for doing so). They came to support their classmate Brianna, who presented original research that she conducted for her anthropology class. Her slides and data told the story of what it's like to be first-gen at UMF. At the end of the day, they came to first-gen Professor Pott's curatorial talk, given in their honor, at the UMF Emery Art Center. Most importantly, they came to eat cake!
Student services professionals take the barriers first-gen students face seriously. We know well the work of Braxton and Tinto, who encourage us to address first-generation students' lack of "cultural capital"–a major barrier to their persistence and graduation. Like any story worth telling, even this plot will twist and turn on us. Each year as we plan the UMF First-Generation Celebration, our priority is to educate the campus about barriers to student success. Yet the theme of our 2019 Celebration became one of resilience and perseverance, not one of barriers. Ultimately, the first-gen stories of strength demonstrated remarkable social capital, which is built not only on compassion, collaboration, high standards but also on thrift, work ethic, and dreams that include their families. Is it time for college campuses to consider revising their traditional norms? If so, we know a group of students who have much to share.
---
For more information about the University of Maine at Farmington's approach, please visit their website here.