University of San Diego Faculty & Staff Summit: Practical Strategies to Cultivate USD First-generation Student Success
Mariann Sanchez M.A., University of San Diego / The Center / March 03, 2020
---
In Fall 2016, the First-Generation Action Team was created as a campus-wide initiative. The USD First- Generation Action Team is a cross-divisional collaboration tasked with creating and sustaining campus-wide efforts to proactively engage and support USD's first-generation college students while at USD and post-graduation. This work emboldens the Action Team, which recently earned recognition within the USD Division of Student Affairs receiving the Powerful Partnership Award, and USD has been designated a 2019-20 First-gen Forward Institution by the Center for First-generation Student Success, an initiative of NASPA and The Suder Foundation.
One of the team's most recent efforts was a faculty and staff summit that offered attendees practical strategies and tools to support first-generation students' myriad of needs across campus. This blog will discuss the Action Team's planning strategies for the summit; its day-of execution; general impressions and feedback from both Action Team members and summit attendees; and finally, what we aim to accomplish with similar events in the future.
After two years of offering year-round programs, the First-Generation Action Team hosted its first faculty and staff summit in 2019 for the USD campus community titled Enhancing a Sense of Belonging for USD's First-Generation Students: Practical Strategies for Faculty and Staff. The summit was scaffolded to include quantitative data and analysis of USD's first-generation student enrollment patterns and key demographics of the various intersecting identities followed by findings from qualitative research to inform the understanding of the first-generation student experiences on our campus. After setting this foundation, key strategies to support first-generation students were highlighted specific to the work of the faculty and staff. The final component included a design thinking session to empower participants to draft specific takeaways they each can incorporate into their roles and responsibilities.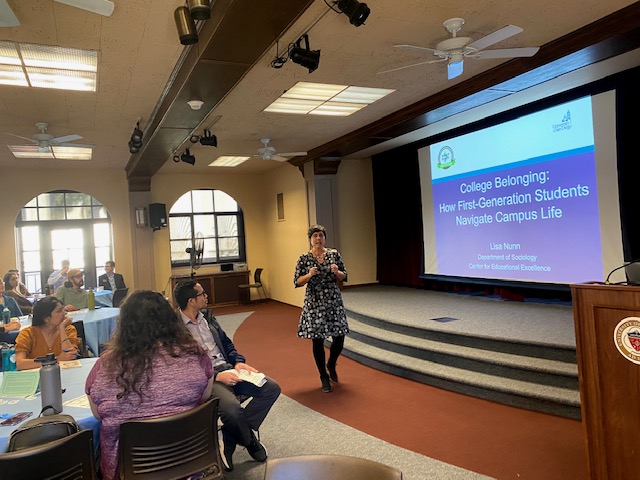 This year's summit titled Practical Strategies to Cultivate USD First-Generation Student Success was a continuation of that workshop and aimed to refine those broad ideas into achievable goals for individual attendees, relevant to their specific job duties and interests.
Highlights and trends of USD's first-generation student population and their intersecting identities
Keynote by Dr. Lisa Nunn, Associate Professor in Sociology, USD, focused on her upcoming book College Belonging: How First-Year and First-Generation Students Navigate Campus Life
Dialogue on how to better support first-gen students and key takeaways
At the end of the workshop we encouraged attendees to complete one or more of their commitments and share their accomplishments with us so we can highlight them at future summits and/or events. Our hope is that sharing the ideas will foster new partnerships and spark new ideas for future attendees.
Based on the success of our first two faculty and staff-specific summits, we are now ready to reach a student audience as well. We still have yet to decide if we will combine both efforts or plan two separate events, but we recognize the need to include first-generation student voices in our efforts to support them. Additionally, we aim to include new data and information about first-generation intersectionality including, but not limited to, commuter, graduate, and transfer student topics.
To learn more about the University of San Diego's first-generation student efforts, visit: www.sandiego.edu/firstgen.