Georgia Southern University - Statesboro campus' First-Generation College Celebration

November 8
---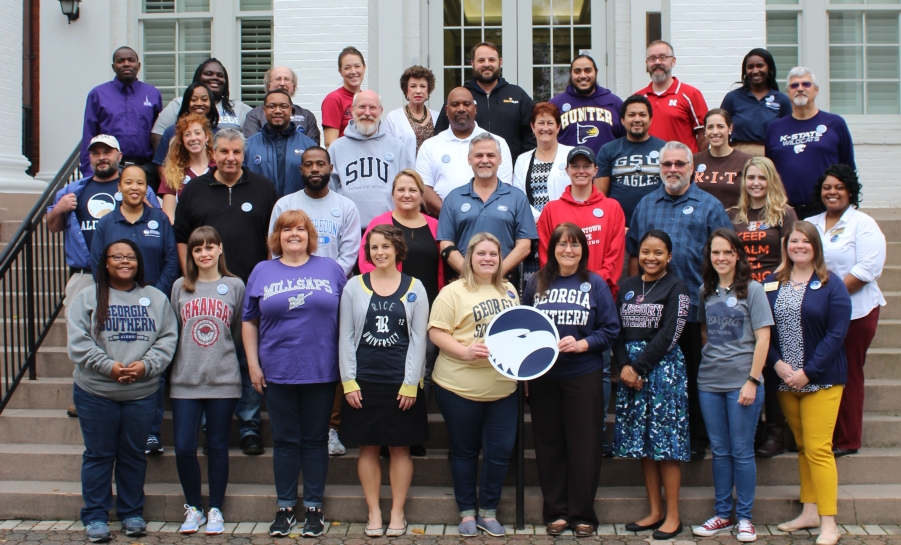 2019 First-Generation College Celebration
For the Georgia Southern University Student Support Services- Statesboro campus second year celebrating, the plans includes hosting an event similar to the previous year, where students, faculty and staff who identify as first-generation college students or graduates will be recognized and celebrated during a social that will be held on National First-Generation College Celebation.
During this ice-cream/sweet treat social, students will be encouraged to engage with the faculty and staff. Prior to the event, an email will go out to faculty and staff, informing them that they should be prepared to have to begin conversations with students, in order to assist them in easing their fears. It is hoped that once students see their peers engaging in active conversations with faculty and staff, they will want to be a part of the circle as well. The goal of this celebration is to begin to close that gap between the first-generation college student populations at Georgia Southern University and to strengthen our participant's support system. Pins will also be provided to individuals that identify as a First-Generation college students or graduates.
To assist in having more of the campus community aware of this event, the TRIO-Student Support Services program on the Statesboro campus will also be reaching out to other campus partners in hopes to combine resources and further the collaboration relationship on campus. Departments such as Housing, the Office of Multicultural Affairs, and the Ronald E. McNair Post Baccalaureate program are key partners in support our students. By combining with these campus partners, this will allow the possibility to have a diverse array of activities for the social attendees to take part in and to further interact with each other. Photos and posts from the celebration will be uploaded to social media using handles #IamFirstGS and #FirstGenEagles. This year we plan to capture a photo with student, faculty, and staff.
2018 First-Generation College Celebration
For the 2018 First-Generation College Celebration, Georgia Southern University's TRIO Student Support Services- Statesboro campus recognized first-generation students and graduates by giving out "I AM FIRST" pins. The faculty and staff on campus who identified as First-Generation college graduates wore apparel representing their undergraduate alma mater. Faculty and staff were photographed in their alma mater's paraphernalia and invited to the first annual First-Generation College Celebration social. The photo was shared with program participants to introduce students to the faculty and staff around campus that also identified as First-Generation College students. Georgia Southern University's TRIO Student Support Services- Statesboro campus also highlighted recent graduates from the program who identify as first-generation on the departmental social media pages. This was a way for the students to interact with those recent graduates and see how their peers were able to overcome the obstacles that comes with being first-generation. The Georgia Southern University's TRIO Student Support Services-Statesboro campus considers being a First-Generation college student less of a challenge and more of something to be proud about. The purpose of this event was to show students that they are not alone in making this choice to bridge a gap between First-Generation college students and those who serve students at Georgia Southern University that identifies as First-Generation College students as well
Follow them on Twitter: @GASouthernSSS Intstagram: @GASouthernSSS and Facebook