Kansas State University's First-Generation College Celebration

November 8
---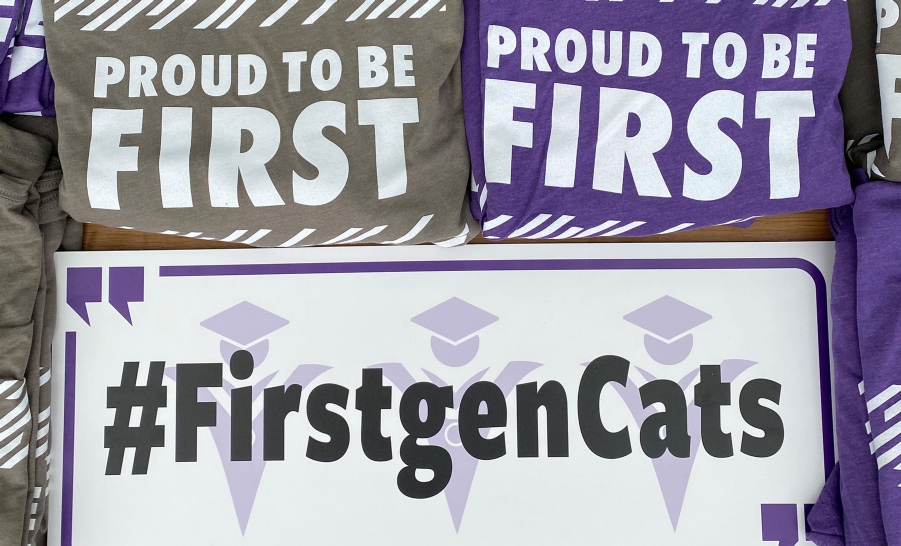 2020 First-Generation College Celebration
K-State, Kansas land grant, is committed to celebrating and supporting our first-generation students and community. As a result of shifting classes and services on-line because of the current pandemic, K-State has created a zoom background to celebrate the week. Whether a first-gen college grad or a first-gen ally, the campus community is asked to consider downloading the graphic and adding it to their zoom background during the week of celebration: November 6-November 12, 2020. We will kick off this year's celebration by joining the Council for Opportunity in Education virtual celebration on November 6. Although the majority of the events of 2020 will be conducted virtually, we will host an in-person event (a tie-dye mask activity) for students on campus and will give out "Proud to be First" T-shirts. The rest of the week's events include: A K-State social media takeover on November 8th that will feature our first gen students, faculty, staff and allies; a faculty workshop on engaging and supporting students during the pandemic; a mini-wildcat dialogue session to unpack first-generation and military-connected student identities; recognizing first-gen athletes at a football game; and sessions for prospective first-gen students (English and Spanish).
---
---
2019 First-Generation Student Celebration
The 2019 First-Generation Student Celebration at K-State was scaled up to a week of events that included a workshop engaging first-generation students in the classroom, an immigration panel where students shared their courageous stories, a webinar on creating awareness surrounding impostor syndrome, and an art competition where students told their first-gen stories through art.
The week's celebration culminated with a big ONE party on Friday, November 8, where faculty, staff and students gathered at the Student Union to share some food, fun, games and find out the results of the art competition. Also, the Office of First-generation Students took over the University's Instagram account for November 8 to show K-State's support for first-generation students and pride in featuring our First Forward institution. These events were a result of collaborations with several campus partners who contributed generously with resources to make this a successful week.
Check out some photos from the photo booth!
2018 First-Generation College Celebration
K-State's First-generation Student Celebration on November 8, 2018, included a first-generation faculty and staff panel, and first-generation student panel. Both panels addressed the experiences and needs of first-generation students. There was also food available. This celebration took place in our Student Union Courtyard, an open space where students stroll by. The Office of First-generation Students took over the University's snap chat for the day to engage the community and market the events.
2017 First-Generation College Celebration
K-State celebrated November 8, 2017 by inviting the K-State community to watch the documentary: "A Walk in My Shoes," produced by K-State's College of Education and featuring university's first-generation students and their inspirational stories. Snacks were served.
Be sure to follow them on Twitter: @Kstate1stSchol and Instagram: kstatefirstgen.