Madison College's First-Generation College Celebration

November 8
---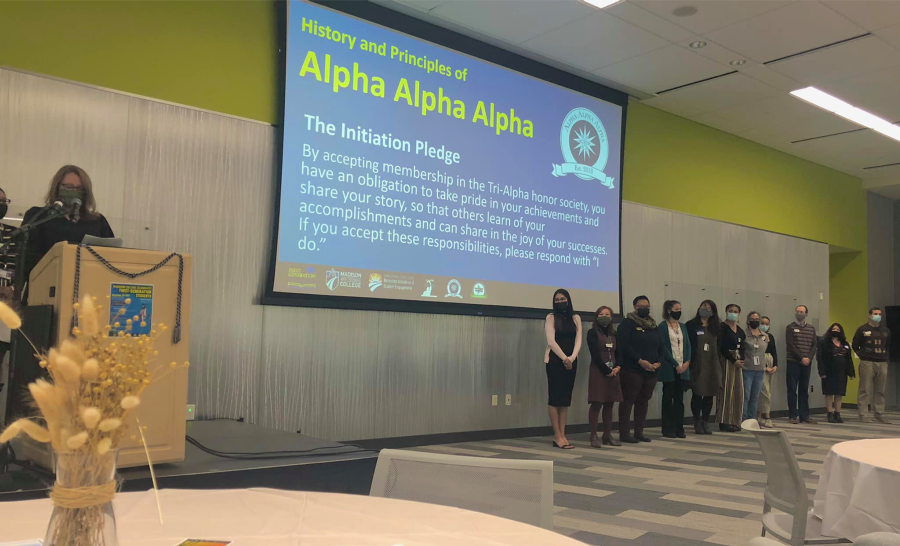 2022 First-Generation College Celebration
Madison College will present a week of events called "Expressions of the First-Gen Experience" in celebration of First-Generation Students. Madison College will host two Resource Fairs, two Career Closet Events and will provide professional headshots to first-gen students. Additionally, they will have the following workshops: Networking 101, First-Gen Professionals of Color, and a First-Gen Student Showcase. The culminating Celebration Luncheon will include: a First-Gen Alumni video, a K-Pop dance troupe, Keynote Dr. Damira J. Grady, Vice President of Equity, Inclusion and Community Relations and a Tri Alpha Induction and Pinning Ceremony. 
2020 First-Generation College Celebration
In 2020, Madison College received national recognition for being a First-gen Forward Institution. Join Madison College on November 12th as they honor students at the 4th annual First-Generation Student Celebration, which will include the opening of a new first-gen honor society and an engaging keynote speaker, Dr. Sonja Ardoin. Madison College is pleased to announce the formation of Alpha Alpha Alpha (or Tri-Alpha), which recognizes the academic achievements of first-generation college students.
On November 12th, all are welcome to join the first-generation experience in an interactive, fun, virtual event. Meet other first-generation students and staff, share ideas, and win prizes throughout the day!
Agenda:
12:30 pm - Tri-Alpha First-Gen Honor Society Induction
1:30 pm - First-gen Keynote Speaker: Sonja Ardoin, Ph.D. ("We are First-Gen and We are a Success Story")
2019 First-Generation College Celebration
In 2019, Madison College held a First-Generation Student Celebration that included a "Grow Together First-Gen" Gallery show, Lunch with Madison College Leadership and a First-Gen pinning ceremony.
2018 First-Generation College Celebration
In addition to the First-Generation Student Day event on November 8, Madison College has created a: 
"Faces of First-Gen" poster series. 12 First-Generation Stories will be shown throughout the college campus. These will also be on social media - Medium.
First-Gen staff/faculty/admin video to be shown at the event.
First-Generation Student Scholarship.
To view the announcement of the celebration, click here. 
The Student Development and Retention Services are pleased to present the second, First-Generation Student Day. This is part of a nationwide college campaign to celebrate the achievements of first-generation students. Madison College invites more than 6,000 first-generation students to participate in the event.
The First-Generation Student Day will be Thursday, November 8, 2018 from10 a.m.-3 p.m., in room D1630 at the Truax campus.
The event will include:
The Resource Fair
Opening remarks delivered by President Jack Daniels III
Keyimani Alford, Director of Student Financial Support Services as the keynote speaker
First-Generation experience including a staff video and the I'm First Club will unveil the SDRS I'm First Scholarship
The First-Generation Community Professionals Panel
Madison College will be showcased as a first-generation friendly institution where all students thrive. Please encourage students and staff to support the First-Generation Student Day celebration which is organized by the RISE Programs along with Student Development and Retention Services. Here are some of last year's stories to help share the vital impact Madison College has on first-generation students.
2017 First-Generation College Celebration
President Jack Daniels, III introduced the inaugural First-Generation Student Day and demonstrated the commitment of Madison College to the success of First-generation students.
The "I'm First" student club created and held the First-Generation Student Day.  Four student stories were published in Medium and can be found here:
TRIO and Retention Services collaborated with administrators, faculty, staff, students, and alumni to present the inaugural First-Generation Student Day on Wednesday, November 8.
The event ran from 10 a.m. to 2 p.m. in the Intercultural Exchange and included: a first-generation faculty/staff panel, first-generation student/alumni panel, #CelebrateFirstGen Campaign, DACA session, and Badger Promise. It also included a photo booth, games, and resources will be provided.
This event also coincided with the unveiling of a First-Generation Campus Club which serves as a support group and campus community base for all those who wish to support and advance first-generation students.
First-generation staff, faculty, and administrators were invited to share their story by contacting the TRiO Student Support Services Director Janine Wilson or the TRiO Student Support Services Manager Jeff Galligan.
Contributors to this event included the Student Development and Success, SCMP, TOPS, Intercultural Exchange, Scholars of Promise, TRiO and Retention Services.
---
For the latest updates on this celebration, follow us on Facebook

!