University of Nevada, Las Vegas' First-Generation College Celebration

November 8
---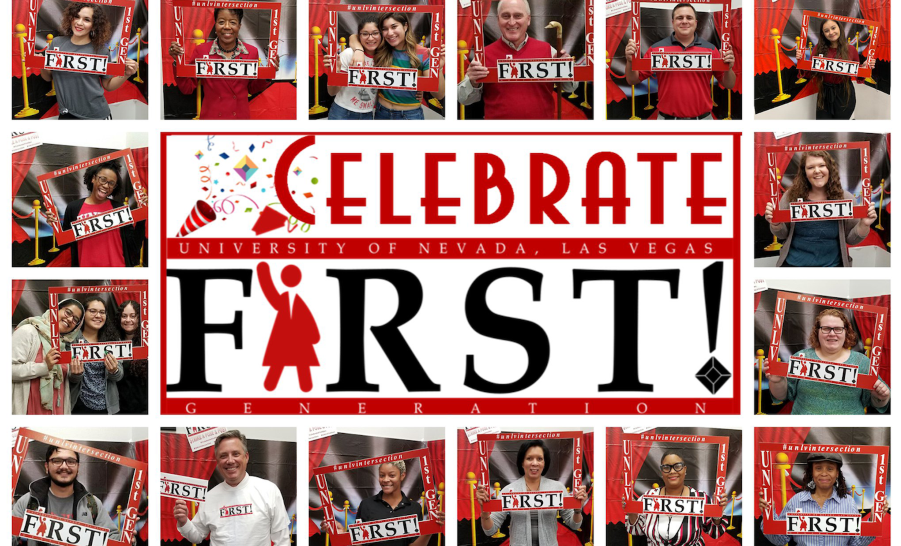 2021 First-Generation College Celebration
The 2021 first-generation celebration will begin with a kick-off on November 8. With welcome and celebratory messages given by UNLV President Dr. Keith Whitfield and Executive Vice President and Provost, Dr. Chris Heavey, the kick-off will begin a week-long campus-wide celebration.
Some of the activities planned to date include:
First-Generation Student, Faculty, and Staff Breakfast
First-Generation Staff Celebration and Recognition
RebelCard Give-Away
First-Generation Window Painting
Alumni Celebrations
First-Generation Interviews
And much more!
2020 First-Generation College Celebration
The University of Nevada, Las Vegas (@UNLV) is going campus-wide for National First Generation Day 2020! The 2020 National First-Generation College Celebration day falls on a Sunday, Nov. 8, but at UNLV, the festivities will kick off on on Nov. 6 and engage the entire UNLV campus community through Nov. 13. From an essay contest to a virtual art exhibit, to finding the UNLV First-Gen logo on social media along with a panel discussions, podcasts, and contests hosted by over 30 university departments, the 2020 First-Generation Celebration is sure to be EPIC!
The UNLV 2020 First-Generation Celebration Coordination Team consists of the 1st Generation Club (@UNLV1GC), the Academic Success Center (@unlvasc), Center for Academic Enrichment & Outreach (@UNLVTHECENTER), and The Intersection (@TheIntersectionUNLV), and University Libraries (@unlvlib).
Check out our website and visit our First-generation Audience Page for more information!
---

---
2019 First-Generation College Celebration
Become a part of UNLV History! Share your "Rebel Voice" story, snap a selfie, pick up a sticker, enjoy a snack, win a prize or two and join The Intersection as we celebrate National First-Generation College Celebration!
The Intersection is excited to join colleges and universities throughout the nation to participate in the National First-Generation College Celebration on November 8, 2019. Led by the Council for Opportunity in Education (COE) and the Center for First-generation Student Success, NASPA, the day is intended to celebrate the success and identity of first-generation college students, faculty and staff on campuses across the country.
During the week of November 4, we invite all members of our community to celebrate the success and presence of UNLV students, faculty and staff who are the first in their families to attend college. All UNLV first-generation students, faculty and staff are invited to show your first-gen pride through social media properties. The UNLV community at-large is also invited to share our support and recognize the experiences of our first-generation classmates and colleagues.
---
For the latest updates on this celebration, follow @TheIntersectionUNLV and @UNLV1GC on Facebook, use #UNLVFirstGen and #CelebrateUNLVFirstGen, and visit their website to show your support!