University of Portland's First-Generation College Celebration

November 8
---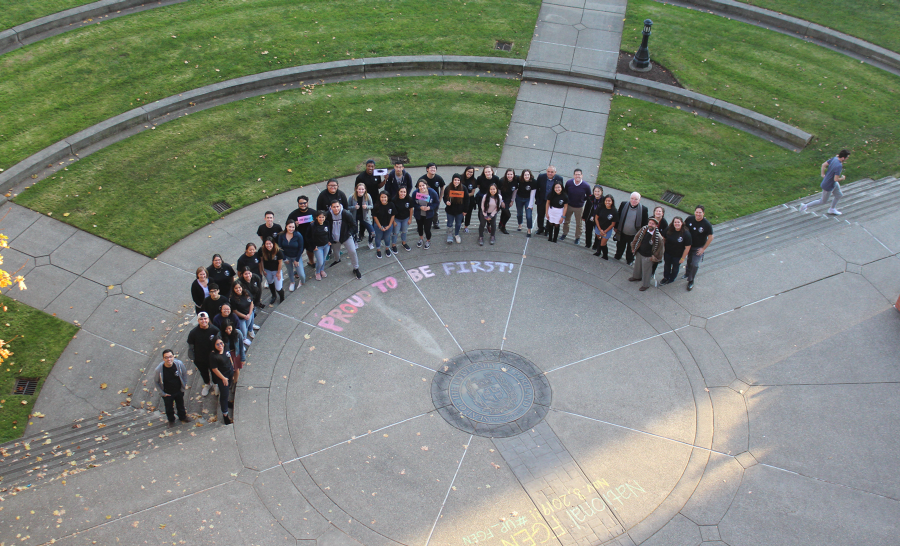 2022 First-Generation College Celebration
The University of Portland is excited to announce our week-long celebration, Nov. 7 - 11, for National First-Generation Day! All planned events are entirely FGEN student designed, planned, and run!
Monday includes our popular t-shirt distribution to students, faculty and staff; Tuesday features a university-wide social media takeover; FGEN hosts a community-wide continental breakfast, and an afternoon photo booth; Wednesday and Thursday programs for juniors ("Preparing for Senior Year") and sophomores ("Look UP! Sophomore Job Fair"). Our week of celebration culminates on Friday with two unique engagement opportunities: our Story Circle (open to ALL faculty, staff and students) asks us all to reflect on experiences outside of the classroom setting through a UNESCO-model story circle. Each participant will share a story of "when someone taught them something outside a classroom and how the lesson was imparted." Finally - FGEN and athletics partners as men's basketball celebrates FGEN at their game, wearing FGEN shirts during warm-ups, celebrating FGEN athletes, and drawing attention to both fans and a Tv audience to the importance of FGEN.
Follow along all week via our social media handles! 
2020 First-Generation College Celebration
Our 2020 National FGEN Day Celebration will be much different than the previous years', with more of a focus on a few targeted opportunities. UP FGEN will offer a "First FRIDAY" workshop series on Fri, Nov. 6th where two faculty/staff will discuss finals preparation both academically and using mental health resources. Monday, Nov 9th, the University of Portland campus welcomes Dr. Rashné Jehangir, University of Minnesota faculty member and first gen scholar/advocate, as she offers a keynote discussion and address for all UP campus partners. To conclude, various current FGEN leaders on campus will gather virtually for a meaningful Sunday, Nov. 15th afternoon of discussion. Dan McGinty, Director of the Dundon-Berchtold Center for Moral Formation and Ethics, will a facilitate a session "FGEN Student Leadership: Importance of Personal Narrative and Story." Students will have the opportunity to learn more about one another and how the first gen identify has impacted their past and present experiences in an intimate setting.
For more information, please visit our website here.
2019 First-Generation College Celebration
We have completely re-worked and redesigned our efforts to include:
Breakfast drop-in: The University of Portland (UP) will be hosting an informal light continental breakfast to kick-off FGEN Day from 8-10am. This celebration welcomes all faculty, staff, and members from the first-gen community to drop-in and say hello, engage in some light conversation, and enjoy some light snacks.
Wisdom Workshops: This is a brand-new initiative where a variety of faculty and staff will offer 30 minute "words of wisdom" for the UP community, not just first-gen community, but all students, as all will be invited. The goal is to connect current personal strengths of our community, via a narrative, with students – to again cultivate the "human" side of all members at UP.
Awareness: One more significant outcome is to create awareness surrouding the first-gen community and acknowledging the day itself – faculty will make a quick two-minute announcement in their class and acknowledge the national celebration. We have ordered buttons, stickers, and created a banner for all. Finally, UP will be taking pictures, using social media.
Guest Forum: In partnership with the Office of Diversity and Inclusion, collaboratively we will host external guests at the University that are elected officials who identify as first-gen, from around the city. Each will speak to their experiences via a forum. This is open to all UP students, faculty and guests. A small reception will conclude the evening.
2018 First-Generation College Celebration
The University of Portland offered a very small and understated celebration effort in 2018. We offered a booth to share with the community that it was First-Generation College Celebration day, offered doughnuts to those that were first-gen, conducted a survey asking for programming and support ideas, and captured posts on social media. For a recap visit: https://www.instagram.com/p/BqFvYPdB91q/; https://www.instagram.com/p/BqD7Xq7BxGw/; https://www.instagram.com/p/Bp7xseFBRLS/
---
For the latest updates on this celebration, visit our website, follow @UP_FirstGen on Facebook, Instagram, and Twitter. and use #FGEN to show your support!