University of Toledo's First-Generation College Celebration

November 8
---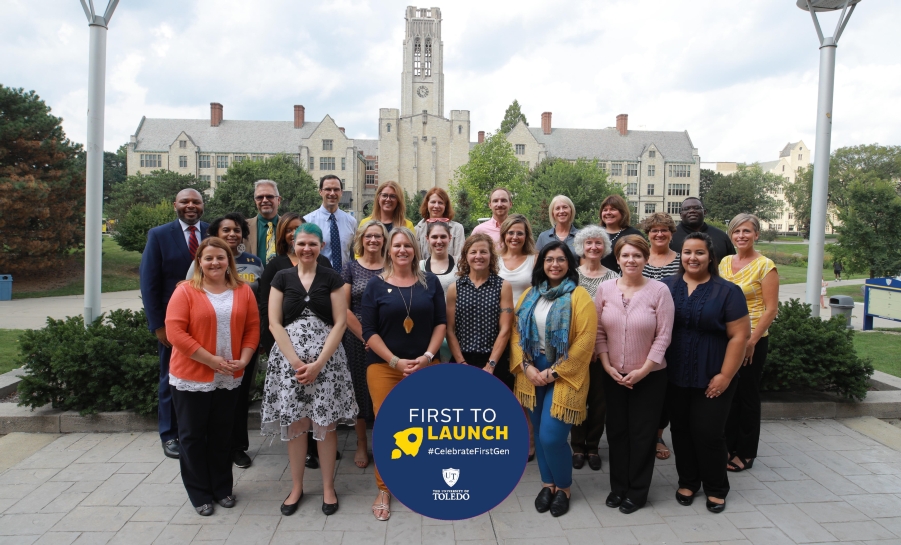 2019 First-Generation College Celebration
With support from the Provost Office, Office of Diversity and Inclusion, Student Affairs, Academic Affairs and campus partners, the University of Toledo expanded its programming from a few hours to an entire day. A new logo was launched. UToledo staff, administration and faculty participated in the annual photograph on 9/11/2019. The First Generation Day Celebration Breakfast will kick-off the events. Faculty, staff and administration from both campuses will interact and network with first and second year first generation students.
At the lunch hour, the Resource Fair will feature more than 25 offices and departments in the Student Union. Finally, staff and student leaders will attend the private screening of the Unlikely Film in the evening. Unlikely tells the story of four individuals and their experience with seeking opportunity. The committee is launching a crowdfunding campaign to support the initiative. #first2launchutoledo
2018 First-Generation College Celebration
In 2018, several University of Toledo offices and departments representing Academic Affairs, Student Affairs and the Office of Diversity of Inclusion collaborated with TRIO SSS to organize the First-Generation Day Resource Fair on November 8, 2018 from 12:00 to 2:00 pm.
The event was held in the Thompson Student Union on main campus. Twelve offices participated and operated their information tables with first-generation staff. The University community came together for a photo to help students identify their instructors and support staff who were first generation, too. Visitors were invited to use the photobooth to interact on social media with the official hashtags #first2launchUT #celebratefirstgen
2017 First-Generation College Celebration
In 2017, TRIO Student Support Services reached out to several University of Toledo offices to collaborate and organize a "First Generation Day Pop-up" stand in the heavily trafficked area of Carlson Library. In the foyer of the main campus library, the partners asked students if they were first generation and thanked each student for attending UToledo. Posters were placed around the foyer that defined a first generation student and explained how the day came about. All visitors to the pop-up were given a snack pack and wrist band that read "First2Launch UT."
The phrase "First2LaunchUT" was coined by a student.