Elon University Partners with First-generation Students to Promote Student Belonging and Connection
Oscar Miranda, M.Ed. & Sabrina L. Thurman, Ph.D., Elon University / The Center / March 09, 2022
---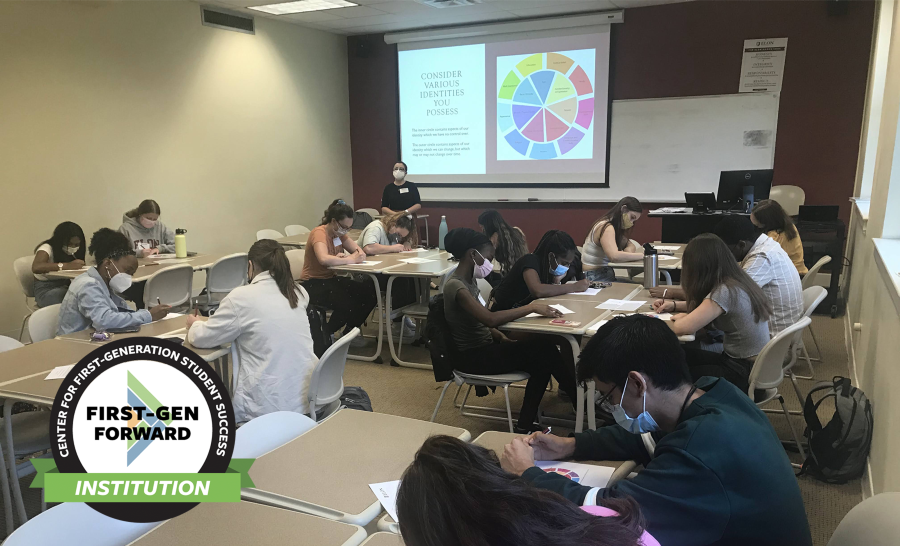 Nearing its third year, Elon University's first-generation initiative, First-Generation Student Support Services, directed by Oscar Miranda, continues to make significant strides in uplifting first-generation student success. This is especially important because just this past year, Elon experienced a 32% increase in applications from first-generation college students. With this increase, the institution has ramped up its efforts to support its growing first-generation community. Below are a few examples of current endeavors to foster first-generation student success at Elon.
First Phoenix
This academic year, Elon University celebrated the first cohort of students to participate in First Phoenix: A First-Generation Student Peer Mentoring Program, designed and co-supervised by Sabrina Thurman, assistant professor of psychology. In this program, first-year, first-generation students are matched with returning first-generation students, who serve as near-peer mentors for the year. In one-on-one meetings held each month, peer mentors and mentees discuss themed prompts, and all students are invited to participate in interactive monthly programming designed to advance personal and professional development. 
Main goals involve:
supporting participants in transitioning into and thriving in life at the university by embracing and applying their unique personal values, strengths, and assets; and

building a strong sense of belonging by connecting students to campus resources and intentionally cultivating meaningful relationships with the wider university community (including faculty, staff, and peers). 
As this academic year comes to an end, preparations for continuing the program in 2022-2023 are currently underway.
The workshop was a tremendous success because it allowed participants to brainstorm how they could uniquely contribute within their roles.
Faculty and Staff Training
Beyond direct work with students, efforts to collaborate with faculty and staff at Elon as they engage with first-generation students have resulted in a university-wide interactive training, co-designed and facilitated by Kelsey Bitting, associate director of the Center for the Advancement of Teaching and Learning and assistant professor of environmental studies. With the goal of elevating faculty and staff awareness about first-generation college students on campus, the workshop included data on the first-generation student profile at Elon, student narratives of interactions that hindered or contributed to their success, and discussion of specific evidence-based practices positively impacting students' educational experience. The workshop was a tremendous success because it allowed participants to brainstorm how they could uniquely contribute within their roles. Additional workshops are being tailored for specific roles within the institution, including a first-generation training for student employment supervisors.
First-Generation Society
Eager to expand services for first-generation students, undergraduate first-gen students gathered to envision how they could contribute to ongoing initiatives this fall. Their commitment to assisting and increasing opportunities for one another led to the establishment of the First-Generation Society, Elon's first first-generation student organization.
The Future of First-gen at Elon University
Committed to first-generation student success, Elon begins to look at what the years ahead will bring. As a First Scholars institution, Elon's First-Generation Steering Committee, composed of faculty, staff, and students, has worked diligently to envision and strategically plan future directions for the initiative. Using institutional and individual student-level data to inform this direction, Elon University is eager to meet its incremental goals in supporting first-generation students across the institution in the years to come.
---
For more information on Elon University's approach, please visit their website here.