Emory's FGLI Student Groups: How Collaborating Made All the Difference
Priscilla Lin & Brian Le, Emory University / The Center / February 16, 2022
---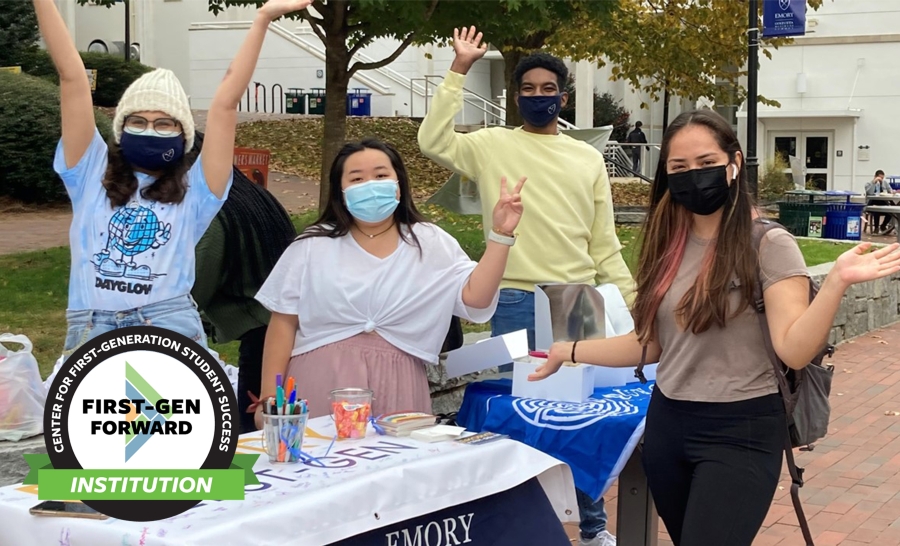 Tucked away in the rolling hills of Decatur, Georgia, Emory University draws together students of various backgrounds. With over 100 different nations represented, diversity plays a huge role in the Emory experience, and in recent years, the first-generation, low-income (FGLI) experience has become redefined and has grown in prominence on campus with the influx of FGLI scholars and the organizations of which they are a part. Two organizations—Emory First-Generation Low-Income Partnership (FLIP) and Emory Quest Scholars Network (EQSN)—helped set the stage for how our FGLI scholars, who make up approximately 11% of Emory University's student population, interact with the university and its global community.
With over 600 established FGLI scholars on campus, FLIP, a student-run organization, was established in 2016 to build resources on campus for first-generation and/or low-income students. In its first year, Emory FLIP built a textbook lending program that allowed students to borrow high-demand textbooks for the duration of the semester. From there, the club has worked to create a laptop lending library, encourage the development of a diversity-focused career fair, create a resource database of nearly fifty guides and programs, and secure a professional clothing closet.
On the other hand, the Questbridge chapter at Emory, one of the largest Quest Scholars Networks (QSNs) in the nation, focused on developing a vibrant, supportive, and engaged community of FGLI students through social events and mentoring programs. Questbridge has welcomed a new class of 100+ scholars each year and integrated them into our community through our signature mentoring program, QuestFAM. Through this program, first-years meet weekly with their family clusters, led by two upperclassmen mentors and have monthly workshops to help them flourish academically, professionally, and socially here at Emory. From final exam study sessions to FGLI alumni networking nights, Emory Quest Scholars Network supports a community of scholars on campus beyond just the first-year. QSN student Britney Mayorga says, "Being a part of EQSN and FLIP has helped me find students and professors who are going through or have gone through similar obstacles as me. In hearing their stories and seeing how much they have accomplished, I am inspired to follow their steps and help the generations after me."
As part of EQSN and FLIP, I've connected with so many wonderful students and have learned so much from their experiences.
For a period of time, our two clubs were working separately on our different goals. All of this changed at the beginning of the pandemic when COVID-19 disrupted Emory's housing operations and threatened FGLI students' housing security across the nation. When news broke over spring break, students were awash with stress—stress related to housing that was on top of the stress of virtual learning. On the same night the news broke, the executive boards of FLIP and Questbridge composed a demand to extend emergency housing to low-income students. The demand created a ripple effect; it ignited a reevaluation of support for FGLI students on campus and brought together a network of advocates from FLIP, Questbridge, and administrative offices such as the Office of Undergraduate Affairs and the offices within Belonging and Community Justice. From that point on, FLIP and Questbridge became partners in crime— always ready to support and contribute to the other's programs. Anikka Jordan, who serves on the executive board for one of the FGLI student organizations, shared, "As part of EQSN and FLIP, I've connected with so many wonderful students and have learned so much from their experiences. This has allowed me to build the courage to use my voice to advocate for those who are underrepresented on Emory's campus."
Questbridge and FLIP have been jointly united in numerous events and initiatives on campus, and we have been working to rebuild a fractured community after returning to in-person learning. One of our favorite additions to the school year has been First Gen Week, a week-long celebration filled with panels, mixers, and more! This year, we had game nights in the evenings and career panels during the day, and food trucks mixed in throughout the week. To top it off, we got some of our favorite free t-shirts that proudly proclaim being first-gen on the front. Earlier in the year, we had a COVID-safe back-to-school barbecue, and later, we had collaborated on an annual Thanksgiving potluck, known as Questgiving, where students could take home leftovers to support food security during Thanksgiving break.
Our unique position as student leaders has allowed us to not only advocate for ourselves but for an entire community–encouraging other FGLI students to continue to make a place for FGLI students on campus. Through these student organizations and the support of Emory's administration, the FGLI community at Emory is really starting to thrive, and we hope it continues to flourish in the future.
---
For more information on Emory University's approach, please visit their website here.