First-Gen Proud–Success Together
Victoria Black, Ph.D., Texas State University / The Center / March 03, 2021
---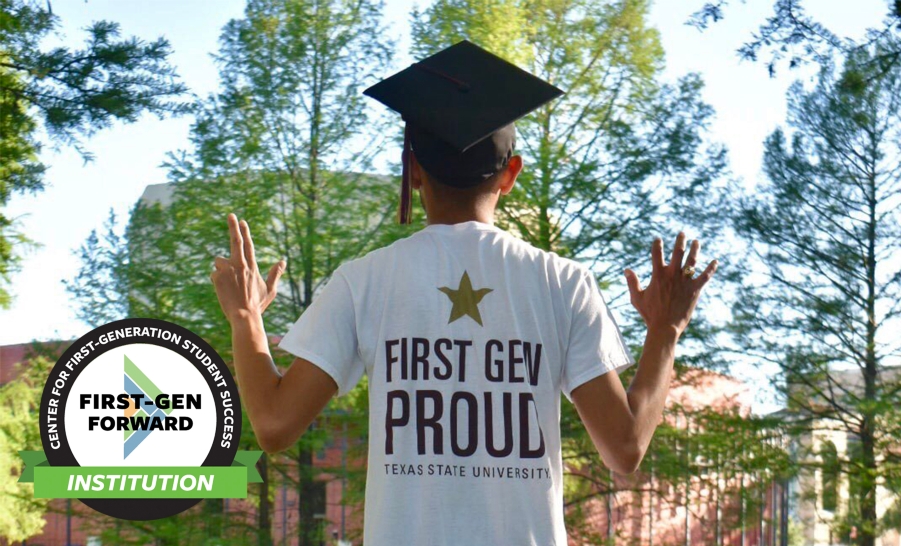 When a few passionate individuals come together, they can create a movement on a college campus. The opportunity to recognize and bring awareness to first-generation students collectively was obvious at Texas State University, where nearly half of our undergraduate students are first in their families to attend college. When a student looks around a classroom, chances are high that numerous classmates share their hidden identity.
In Fall 2018, a small group created First-Gen Proud, focused on bringing visibility, awareness, and intentional support to change the narrative for first-generation students. This narrative is grounded in an asset-based approach, seeking to recognize and celebrate what it means to be a first-gen student attending a post-secondary institution.
Legacy of Opportunity
The First-Gen Proud initiative is still in its early stages. However, the committee's efforts have already led to more awareness and pride in the first-gen identity. Faculty and staff participate in learning opportunities for supporting first-gen student success, and the university community recognizes the importance of changing the economic mobility of their families. The opportunity to reduce the equity gap through higher education is no secret at Texas State. In 1965, President Lyndon B. Johnson (class of 1930) signed the Higher Education Act at our university, then called Southwest Texas State College, promoting equitable opportunities for underrepresented and underserved populations. Today, the university has a different name, more buildings, and a more diverse population, yet the commitment remains the same.
---
I want you to go back and say to your children and to your grandchildren, and those who come after you and follow you—tell them that we have made a promise to them. Tell them that the truth is here for them to seek, and tell them that we have opened the road, and we have pulled the gates down and the way is open, and we expect them to travel it.
— President Lyndon B. Johnson, upon signing the Higher Education Act in 1965
---
Classrooms and Communities
With a growing population of first-generation students, Texas State continuously explores and develops culturally relevant practices to serve them. We have introduced University Seminar sections with a tailored first-gen curriculum and engagement activities to meet first-gen student academic needs, as well as a path to transition socially to the university community. The curriculum includes developing a growth mindset, crafting self-discipline, and addressing the hidden curriculum. Students can participate in F1rst Bobcat Proud, a student-run organization providing a community for first-gen students. Additionally, students can join several TRIO Programs and attend workshops such as "Once a First-Gen, Always, a First-Gen," presented by The Graduate College to increase the graduate-going culture.
Success Together
The Texas State family is the sum of our individual contributions. Faculty, staff, and students are eager to embrace the first-gen identity, and it shows: you will see the First-Gen Proud logo displayed on T-shirts, masks, and faculty/staff office doors. These efforts are just the beginning of our work to promote first-gen student success. Together we are First-Gen Proud.
---
For more information on Texas State University's approach, please visit their website here.