From Student, to Staff Member, to Advocate: Creating a Space for First-generation Students
Mercedes Torrez, M.A., Texas A&M University–San Antonio / The Center / March 09, 2022
---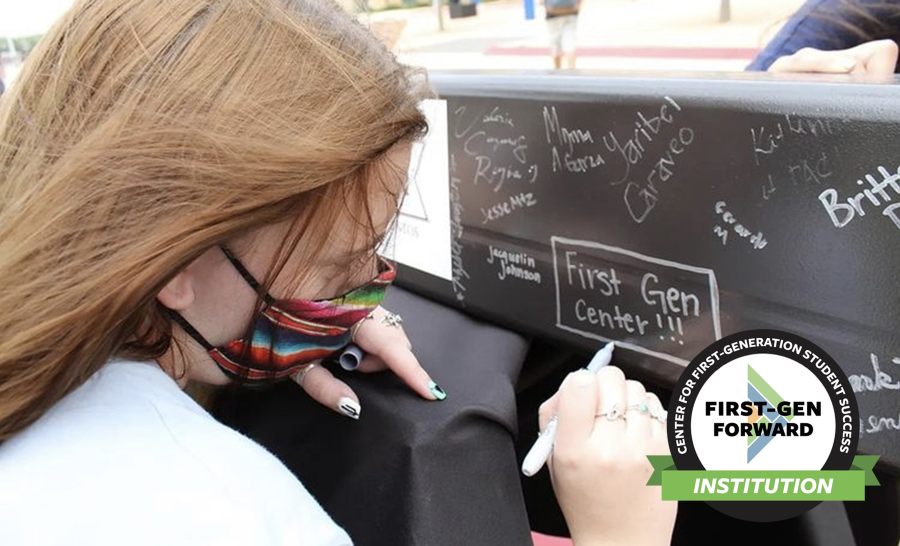 While sitting down and planning how to approach this blog submission, I came across a blog by Dr. Whitnee Boyd that focused on the importance of not conflating proximity and advocacy in supporting first-gen students. In her article, she stresses that "our proximity to people, spaces, and populations does not make one an advocate" (Boyd, 2021). This single sentence jumpstarted a reflection on my journey as a first-gen student, higher ed practitioner, and ultimately, my place as a first-gen advocate at Texas A&M University–San Antonio (TAMUSA)–an institution that has, at times, struggled to successfully support its first-gen student population.
To give a bit of context, Texas A&M University–San Antonio began as a transfer institution and system center campus in 2000. From 2009, when the University was established as a standalone campus, through comprehensive expansion in 2016 to establish the University as a four-year institution, a great deal of focus was placed on the large population of first-gen students enrolled at TAMUSA. As the first university created to serve San Antonio's historically underserved south side, it was no surprise that nearly 80% of the student body identified as first-generation–myself included.
Rather than waiting for a seat at the proverbial table, I decided to bring the table myself and begin advocating in the best way I knew how–programming.
In my time as a student at TAMUSA, I didn't quite understand what it meant to be first-gen. I knew that I felt lost during the enrollment process and that I was having a difficult time adjusting to college life, but I figured that my peers must be in the same boat. It turns out that many of my peers who weren't first in their family to attend college did not share the same experience as I did. This led me to think, "Why do my peers seem far more advanced than I am with the whole college experience? Is something wrong with me?" Looking back on it as a practitioner in student success, I now recognize that what I experienced tends to be a hallmark of the first-gen student experience–an observation that troubled me as I saw countless first-gen students at our institution struggling with an experience that was all too familiar. As time went on, however, much of the institutional conversation focused solely on marketing TAMUSA as first-gen friendly rather than creating initiatives to ensure the success of these students. To say that I felt compelled to act on behalf of our first-gen student population would be an understatement.
For this reason, I knew that I had to create a space and advocate for our first-gen population. Rather than waiting for a seat at the proverbial table, I decided to bring the table myself and begin advocating in the best way I knew how–programming. Beginning with the
National First-Generation College Celebration
, we began to carve out a space for our first-gen students and allow them to have a true voice on our campus. Being that many of our first-gen population, including myself, are Latinx, a focus on building community and family felt like an appropriate homage to the culture many of us share.
Fast forward to the present: TAMUSA is now a part of the First-gen Forward program–giving traction to initiatives that had, unfortunately, been overlooked in the past. In addition to programming, a pilot mentor program, and establishing a physical location for our first-gen center, we have made tremendous strides in differentiating between our proximity to first-gen students and our advocacy on their behalf. I distinctly remember being that student on the TAMUSA campus with a million questions and nowhere to go because I was unfamiliar with college life, and now, to be the individual leading initiatives that my undergraduate self desperately needed, I know what it means to truly be an advocate.
---
For more information on Texas A&M University–San Antonio's approach, please visit their website here.
---
References
Boyd, W. (2021). First-generation Student Success: Proximity Does Not Equal Advocacy. The Center for First-generation Student Success.