Oklahoma State's National First-Generation College Day Kick-Off
Rae Ann Kruse, Ed.D., Oklahoma State University-Main Campus / The Center / November 15, 2021
---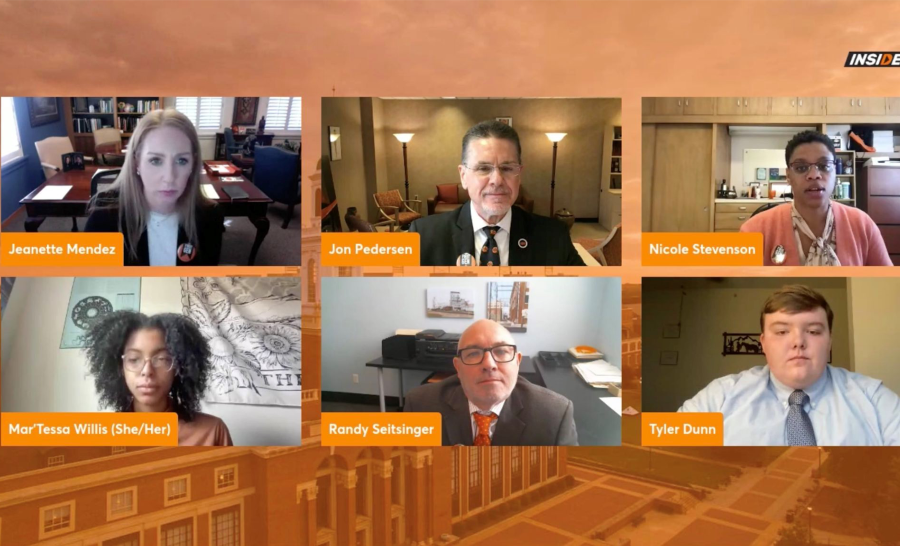 An idea that started out as "Let's just get everyone together on the library lawn for a picture" blossomed into a day filled with a nationally recognized speaker, a first-generation panel, a podcast, scholarships giveaways, and so many stickers and buttons. Oklahoma State University (OSU) hosted a campus-wide day of recognition for our inaugural National First-Generation College Day on Monday, Nov. 8.
Oklahoma State's Office of First Year Success and the Division of Institutional Diversity partnered to create a celebration of all first gen students, both current and former. Our overarching goal was to build a first-generation-friendly culture by asking faculty and staff to self-identify and display their support through office door stickers and buttons. Those who weren't first-generation also got a sticker stating they were first-gen supporters.
Our faculty and administration supported the idea and volunteered in a variety of ways. Our first-gen University President, Dr. Kayse Shrum, tweeted about our events and our first-gen interim Provost, Dr. Jeanette Mendez, hosted our main event. Half of our deans are first generation, and they all volunteered to participate.
During the planning phase, it became apparent that more and more people wanted to be involved. The Spears School of Business hosted an event for first-gen students and simulcast our main event during their gathering. The Veterans Student Success Center used their momentum for Veteran's Day to feature our events and so did our friends at The Center for Sovereign Nations. The Ferguson College of Agriculture shared heart-warming stories of first-generation agriculture students.
OSU's National First Gen Day will not be a stand-alone event but rather the start of campus-wide transformative practices that support first-generation college students.
Institutional Diversity organized an 1890 Essay Contest based on the year our university was founded and gave three winners a scholarship in the amount of $1,890. We advertised the contest campus-wide and made sure that our TRIO, minority, OSU First Generation Organization, and F1rst2Go freshman support program participants knew about the contest.
Over 80 students participated in the essay contest, and the three first-generation winners exemplified strong writing skills and even stronger stories.
Our communications department went into overdrive featuring OSU first-generation students on social media and sharing our calendar of events. Communications helped inspire a podcast and a slickly-produced show featuring our main speaker and our panel.
Marisel Herrera was our featured speaker, and she kicked off our main event by sharing her challenges and successes as a first-generation speaker before becoming a successful speaker, author, and success coach. Our panel of first-gen faculty, staff, and students discussed their individual paths taken, the journey ahead, and gave appreciation to those who helped along the way.
The positive feedback continues! Our hope is that OSU's National First Gen Day will not be a stand-alone event but rather the start of campus-wide transformative practices that support first-generation college students. About 20-25% of Oklahoma State students are first-gen, and we want to continue to build a culture of support.
---
For more information on Oklahoma State University-Main Campus' approach, please visit their website here and check out their Twitter moment!