University of Memphis' First-Generation College Celebration

November 8
---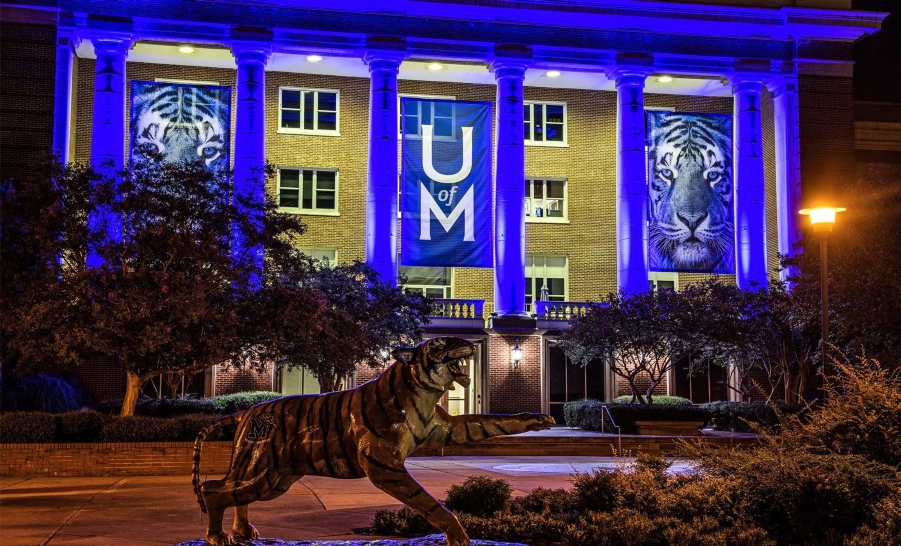 2020 First-Generation College Celebration
Our photo project is a series of first-gen faces and student quotes used to reflect our own stories and different backgrounds and to reach out to other first-gen students. These will post daily on our Instagram and Facebook accounts for First Scholars @umfirstscholars. We want all first-gen students and their parents to know that they can also be empowered to not see obstacles, but opportunities and to also recognize that no matter how hard it gets, they are never alone as they navigate college. We Are First-Gen, We Are First Scholars, We Are Memphis and We Are Here For You whenever you need the support.
Quotes
Bart Bartholomeo: "First-gen to me means that I can achieve anything through faith and education. Being a first-gen student and American, I have watched what my parents have gone through raising four boys in a completely different culture than the South Sudanese culture. The one thing that they have always told us is to focus on God and education. If you have those two things, then your future will be bright."
Alyssa Pritchett: "First-gen to me means opportunity. I'm the first in my family to go to college, and with that comes pride as well as pressure. It scares me since I can't come to my parents for advice, but I'm going to try my best and be persistent. It's going to be hard, but I'm stubborn, and I'm not going to give up. I can do this."
Stephany Umanzor: "First-gen to me means more than just being the first in my family to attend college. Being first-gen means being thankful for having the ability to further pursue my education and never taking anything for granted."
Nestor Avila: "Being first-gen to me means paying it forward and giving back so others don't find themselves struggling to make their way through college. For me the First Scholars program is a platform where I can showcase my abilities and also better serve my community through outreach and service."
Hunter Blount: "Being first-gen means to me that there is an opportunity to grow as a person as well as a family. I see it as a chance to reach my goals-some that I never expected to reach-with the help of the people around me. It also gives me hope that the goals that I have in mind will be reached."
Nikira Bonds: "First-gen to me means that I'm breaking the generational curses of wealth, poverty, and oppression that surrounds my family and other families alike. It means that I'll be the first, but definitely not the last, in my family to create opportunities and set examples for future generations. I'm proud to be one of the first building blocks for future young adults in my family."
Tyler Berryman: "First-gen to me means to be scared but to still get through it with the support of my peers. It means the chance to make my family proud no matter how hard it gets. I know I have the strength to do this."
---
---
Mya Macklin: "First-gen to me means empowerment and choosing to follow my purpose and passion. I struggled with having confidence within myself for a long time, even up to now. Many people knocked me down, making me feel as if I had no purpose or I was nothing. However, being first-gen and a First Scholar has actually opened so many doors for me. I became very ambitious, thriving to complete my goals in becoming multilingual and to connect with multiple cultural backgrounds. I love having people around me who are also first-gen and it has helped me to realize what my calling is. I am truly blessed to be able to experience this in First Scholars and to have others who I call family that support and love me for who I am."
Dalan Hailey: "First-gen to me means that even though I'm scared of doing this alone, I realize that with First Scholars and my peers, I am not alone."
Tyler Bang: "First-gen means to me that right now, I am experiencing a once in a lifetime opportunity of finally breaking an everlasting curse of not truly experiencing opportunity in the land of opportunity. Coming from a low-income European immigrant father and a mother plagued with health conditions that kept her out of college, it was very clear that the odds were stacked against me. Years of hardship, struggle, and a desire to push myself to my limits led me here. I was not guaranteed this opportunity, and it became my mission to make it to college, and now being a first-generation college student, the odds continue to be stacked against us, but we must continue to hit our stride and prove to those who continue to doubt us, that they are wrong and that we are more than capable of succeeding in college and life."
Amanda Morales: "Being first-gen to me means that I can be the start of a revolution for my family. I am first-gen. I am the product of my parent's sacrifice. I will realize my potential."
Dayana Tran: "I am first-gen. I am Vietnamese and Cuban. I am strong. I am determined. I will succeed in my dreams even when they are dreams that my ancestors were not able to even dream of. I will make my family proud to have made me a first-gen graduate. First-gen to me means to break the cycle of poverty and hardship. It means to be the best version of myself."
Randy Truong: "Being first-gen to me means that as a first-gen student, I rely entirely on the help of teachers and counselors. On top of that, you will have to try and re-explain all this information that you barely understand to your parents (who understand it even less). I am going to take full advantage of every opportunity that is thrown my way, be a leader in that position and work to help other people who were in my position. My parents have worked really hard to get to the states so I can have this journey and I am going to work my hardest to make sure my children in the future have the same chances that I had if not better."
2019 First-Generation College Celebration
For the 2019 First-Generation College Celebration, the University of Memphis will harness the momentum garnished from the 2018 celebration and host the First-generation Student fair, again, aiming to reach at least 500 first-generation students.
2018 First-Generation College Celebration
The University of Memphis will host a First-Generation Celebration featuring a First-Generation Lunch and Learn located in the University Center. First-generation students will be invited to join first-generation faculty and staff. Faculty and staff will be positioned at tables, and students will have the opportunity discuss topics such as what it means to be first-gen, how to navigate campus resources, as well as share their personal stories of identifying as first-generation and overcoming different obstacles throughout college and beyond. Through these discussions, first-generation students will not only connect with faculty and staff, but also discuss and develop methods for self-advocacy and success both on and off campus. Following this celebration, first-generation students will also be invited to Incredible Pizza where they will be able to network with other first-generation students and celebrate their achievements.
---
For the latest updates on this celebration, follow @umfirstscholars on Facebook and Instagram and use #firstscholars and #firstgenmem to show your support!