University of St. Thomas' First-Generation College Celebration

November 8
---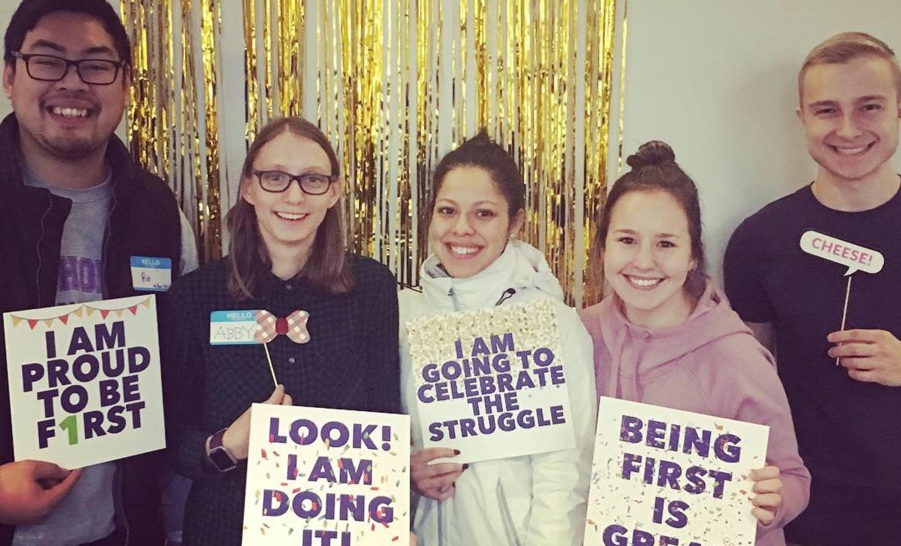 2020 First-Generation College Celebration
In 2020, the University of St. Thomas will be hosting a First-Generation College Celebration Week (Nov. 4-10) with a variety of social media campaigns highlighting first-gen student researchers and leadership as well as a "throwback to the college days" featuring first-gen faculty and staff with pictures from their college experience.
In addition to these social media campaigns, we will have the following activities:
Thursday, Nov. 5th: A Day in the Life of a First-gen Student Social Media Takeover
Friday, Nov. 6th: #FirstGenFriday Photo Challenge
Monday, Nov. 9th: First-gen Student Panel featuring current St. Thomas students
Tuesday, Nov. 10th: First-Gen College Celebration Open House where students will have the opportunity to screen print t-shirts with first-gen positive and affirming messages.
2019 First-Generation College Celebration
Join us for the 2nd Annual First Generation College Celebration on Friday, November 8!
In observation of National First Generation Day of Celebration, Proud to Be First (PTBF) is hosting a party! Join us in Create[Space] from 3-4:30 on November 8 to celebrate first-gen achievements. We will have changemaking activities, a photobooth, Proud to Be First t-shirts and tote bags, and an appetizer bar. We will also be featuring two short videos from President Sullivan, who was also a first-generation college student as well as a video made by and with current first-gen St. Thomas students!
We will also be giving away three first-gen narrative novels, courtesy of the St. Thomas libraries! Our Grand Prize giveaway will be free book rental for the spring semester (prize value up to $300)!
Drop in or stay for the whole event—we hope to see you there on November 8th!
2018 First-Generation College Celebration
In 2018, the University of St. Thomas hosted their first First Gen College Celebration with a photo booth, make your own photo frame and community building! The University President and fellow first-generation college student, Dr. Sullivan, came to celebrate with our first-generation students, staff and faculty!
---
For the latest updates on this celebration, follow @ustproudtobefirst on Instagram and use #ProudtobeFirst and #FirstGenTommies to show your support!