RECENTLY, THE CENTER INTERVIEWED DR. STEPHANIE BANNISTER, ASSISTANT VICE PRESIDENT FOR STUDENT LIFE AT KANSAS STATE UNIVERSITY, TO LEARN ABOUT THEIR INAUGURAL FIRST-GENERATION GRADUATION CELEBRATION AND THE COMMITMENT K-STATE HAS MADE TO FIRST-GENERATION STUDENT SUCCESS.
Could you share how Kansas State University supports first-generation students?  Also, how has First Scholars influenced first-generation student success at Kansas State University?
We are learning a lot about ourselves through our Higher Learning Commission (HLC) - Quality Initiative project focusing on improving graduation rates for first-generation students. We deployed the framework from First Scholars, to help guide how we begin to catalog High Impact Practices across the academy. 
Borrowing the framework assists us in mapping everything that we do at the University. We have been able to do a gap analysis of the student lifecycle and assess where we don't have programs in place or have redundancies, and where we could re-allocate time and energy to help fill gaps. There are strong programs at K-State, especially TRIO programs, but the First Scholars framework goes beyond that first-year and asks you to look at each year as students begin to discover significance, begins to pay-it-forward, and to live into their legacy. We are able to use this work as an institution in a meaningful way and provide timely and consistent support to our first-generation students.
Kansas State has some very exciting news about the Office for First-Generation Students. Can you share the vision for this Office?
Yes, this has been very exciting! The generous gift from The Suder Foundation will be instrumental in equipping the office with staff, resources, and overall support to influence first-generation student success at Kansas State. We are hoping to announce the Assistant Director for the Office for First-Generation Students (Office) very soon!
The Office will be housed within the Academic Achievement Center on our campus, which is a partner in the University Success Center and includes all of our TRIO programs, Student-Life functions, First-Year Experience, LGBT Resource Center, and the Center for Advocacy, Response, and Education. With all of these partners housed in the same building, the Office will be strategically positioned within the University Success Center collaborative.
The vision is that that Office is so much more than just a physical space, it will be the energy and driving connector between pockets on campus to ensure we have a call to action and that we are coming together to deploy intentional best practices. Most importantly, it will promote consistency of a first-generation student experience across colleges and across the academy. The Office will serve a critical role in supporting the HLC project, as we know additional projects will surface. For example, we need a mentoring program for our underrepresented, first-generation students. We have an awesome first-year mentoring program, and we have pocketed programs in the colleges, but the Office will serve as that vehicle to put action behind driving mentoring a High Impact Practices (HIP) for all students. Additionally, the Office will help determine what current resources exist and how reallocation and redistribution across the academy could prove useful. We have the systems in place, such as a mentoring software system that we could leverage in a purposeful way.
We have many individuals doing great work with first-generation students, yet we have not had a call to action and meet the holistic needs of first-generation students. The Office will serve as the vehicle to do so bringing partners and resources to the table so that we can scale up and sustain. The Office will provide support and be the home to the first-generation student organization and first-generation ambassador group, as well as, offer recommendations to first-generation students about course offerings, learning communities, and strengthening connections with advisors.
In what ways does Kansas State involve faculty and staff in supporting first-generation students?
The HLC steering committee is a large group consisting of teaching faculty, advisors, administrators, and student voices of which half identify as first-generation, and is representative of individuals across all nine colleges. The President of Faculty Senate sits on the steering committee, which provides us with a direct connection to share the work that we are doing to support first-generation students. I forgot to mention, we are really excited about this: the HLC project has allowed us to build a dashboard of data on first-generation students to help inform program delivery.
The Office for First-Generation Students will work directly with the steering committee to move the needle forward with first-generation initiatives. Additionally, we have a great partnership with our university advising community and receive direct feedback about what advisors hear from students. With the work that Dr. Steven Dandaneau (Center Advocacy Group member) did on identifying first-gen Champions, allows the Office to expand on that model to create more awareness and support for first-generation students. Using a similar model to Safe Zone in identifying safe zones, the Office will identify First-gen Champions through a web presence such that first-generation students know where to find support. Currently, there is a working group, within the steering committee, that worked through the summer to navigate the logistics to include the advocacy network and a frequency of contacts with hopes of ramping up in the Fall.
How did Kansas State celebrate its first-generation graduates before and during graduation?
We had our inaugural first-generation students' graduation reception on Friday, May 11, 2018! This idea was the dream of K-State's First Scholars program coordinator- Rebecca Paz. She reached out to the Developing Scholars Program and TRIO programs to co-sponsor the reception, and a wonderful organic reception sprang up along with the idea to give out green "cords of resilience", to wear at graduation. We had about 30 first-generation students attend and between 150-170 people in attendance, consisting of proud family members and friends. It was a big deal! In one case, a family of 12 came to support their student. The colleges did a great job in reaching out to ask for cords for their first-generation students, and they were worn at commencement.
We are now working to find more partners to share the cost and spread the word to have even more first-generation students receive their cords to proudly wear at commencement. The plan for Fall is to do a virtual reception accompanied with a special delivery of the cords prior to winter commencement.
Here is the link to the press release about the reception!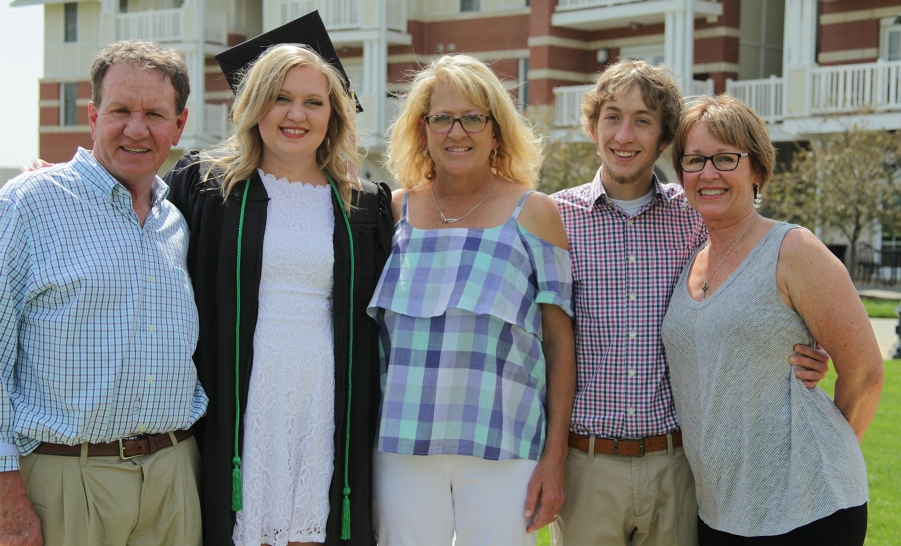 How do you see this year's event contributing to developing a sense of tradition toward celebrating first-generation students?
We learned a lot from this inaugural event and we plan to continue with this reception. One of the things we are going to work on is making sure that the communication piece gets into the right hands, to share the narrative and story. The feedback we received from families was that the food was wonderful, the speakers were great, and the cords were meaningful, but it would have been great if someone from the Alumni Association was there. I had families come up to me later and two of the families had future of Kansas State students with them. They told me how powerful it was to see their sibling receive their cord because they could see their future. The third family told me that they had to leave their other children at home, who will also be attending Kansas State, so we discussed coming back for a visit day.
This is a great opportunity to help capture the narrative of your first-generation journey, and as a land-grant - you bring your entire family to celebrate so that your siblings can be inspired and maybe your parents also see it as a path forward for themselves. We are going to be very intentional about building partnerships beyond this exciting mountain top moment, and navigate how we engage and pull them back in. These students are building a roadmap where there was not one before, and we are so proud of them.
Additionally, we are going grow some intentional partnerships to make sure that we have a first-generation student panel at those experience so that students begin to see students that look like and have shared experiences. It makes it easier to navigate the unknown of being first in the family when you know someone who has done it.
What does the future for first-generation students look like at Kansas State?
We just completed a strategic enrollment management review. Our leadership decided that this was an opportunity to reflect, and stand on the balcony, and look at everything in its entirety to consider where to we have opportunities for growth and who do we want to be.
At our first community-wide conversation, to talk about the findings and path forward one of the findings we spent a lot of time talking about, is how Kansas as a state has changed and will change, and as a land-grant institution what is our responsibility? When we know that fewer students and first-generation students see higher education as a value, how do we get in there and tell our story in a different way? This generation is more price conscious and has access to good paying jobs early on. So, how to get out there and talk about a career and building a life that relates to a career? I think for us the future is redefining what it means to be the land-grant in the state and help tell that story - what education does and can do for our communities. There is just this amazing landscape of people here, so how do we connect them to opportunities through education that helps change our state for the better, that then influences the United States, and then influences the world.
Our future is going have to sense of renewed focus and purpose. We must do better with retaining and graduating students in particular first-generation students, and we are committed to that. In addition to focusing on this, we are going to create pipelines in our urban areas, like Kansas City to Kansas State. This will increase the contact with students and complete the necessary connections to support our goals of retention and graduation.
Click here to read the announcement about the Office for First-Generation Students at Kansas State University.
The Center for First-generation Student Success would like to thank Dr. Stephanie Bannister, assistant vice president for student life at Kansas State University, for her time and for continuing to be a strong advocate for first-generation student success!