From Undergrads to Grads: A Continuum of Support for First-gen Students
Maria Dykema Erb, M.Ed., & Carmen Gonzalez, M.A., / The Center / January 27, 2020
---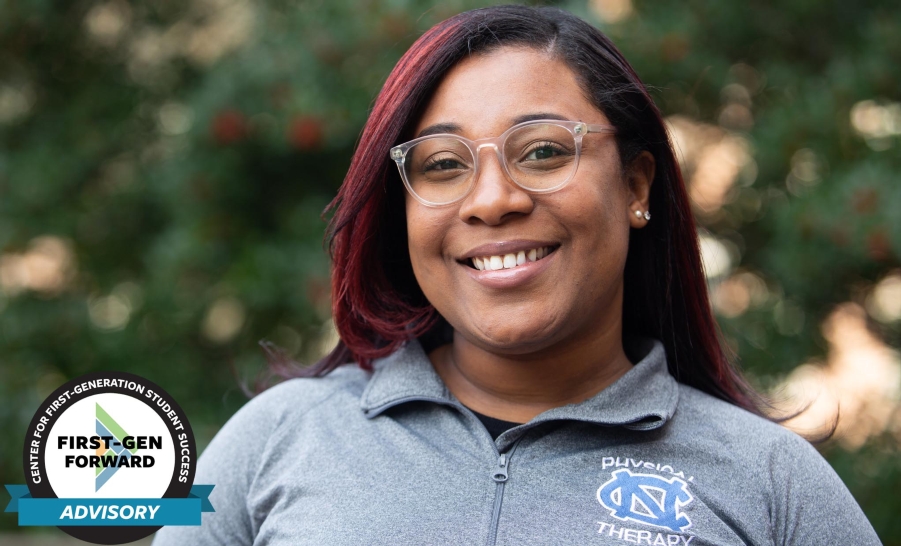 First-generation college student programs are rapidly increasing in number on campuses across the nation. But what happens to those students when they go on to graduate or professional school? What if they're the first in their family to pursue a master's, doctoral, or professional degree? At the University of North Carolina at Chapel Hill, Carolina F1RSTS and Carolina Grad Student F1RSTS recognize and provide a continuum of support for the first-generation student community at both the undergraduate and graduate level.
The undergraduate Carolina F1RSTS make up nearly 20% of the total undergraduate population and initiatives started in 2008. The Carolina Grad Student F1RSTS (CGSF) initiative in The Graduate School was formally established in 2016.
The best way that we thought to convey the impact and necessity of both programs was to hear directly from LaCorey Cunningham, a first-generation UNC-Chapel Hill undergraduate alumna who is in her final year of her Doctorate in Physical Therapy degree and will soon be a double Tar Heel.
---
In her own words…
"As a first-year undergraduate student at UNC, I was drawn to any event or student organization that offered free food, swag, and a chance to meet new people. Like many others, I quickly added my name to the emailing lists of more organizations than I could manage, but I knew when it came to Carolina F1RSTS, I would never hit "unsubscribe." I still remember the first welcoming event that I attended with my best friend. We were both amazed at the excitement and sense of empowerment surrounding being a first-generation college student. Although this was an honor I was personally proud to obtain, it often came with a sense of guilt from the previous generations who were unable to achieve this milestone; but it was THEIR hard work, guidance, and persistent pressure to pursue post-secondary education that paved the way for me.
As a Carolina F1RST, I consistently received emails about resources available on campus, workshops, and unique events geared toward supporting first-generation college students like myself. When reflecting on my experience, I realize that two of my most memorable moments at Carolina stemmed from this organization—my selection as a Bill Friday Award recipient and the Carolina F1RSTS Graduation Pinning Ceremony. The Bill Friday Award is presented to first-generation students committed to public service and education. As a recipient, I had the opportunity to meet with then-Chancellor Carol Folt as she personally hand-signed my degree and celebrated my ability to overcome adversity. Later I attended the pinning ceremony where we invited the person who supported us most during this journey. As my mother stuck the Carolina F1RST lapel pin into my white dress, we both became overcome with such emotion and pride knowing that I was able to change the trajectory of future generations to come.
When I decided to return to UNC to pursue my Doctor of Physical Therapy, I was unaware of how integral the graduate version of this organization would be to my retention and overall success. By hosting a variety of workshops geared toward reflecting, supporting, and connecting first-generation graduate students to various resources, I was able to contest feelings of inadequacy with workshops such as 'Imposter Syndrome, Resiliency and Optimism,' take a study break with friends and free appetizers at CGSF "First Fridays", and brainstorm areas of need for other first-generation graduate students by serving on the Carolina Grad Student F1RSTS Advisory Board.
What I love most about Carolina F1RSTS and Carolina Grad Student F1RSTS is when we have the opportunity to interact and provide support for each other. Each year, both organizations collaborate to offer a networking event, where the first-generation undergraduate students learn fundamental networking skills and then get to put them into action through a mixer with their graduate counterparts. This is an event that maintained significance to me at any level as I continue to challenge myself to improve on communication skills in networking and professional settings.
I am deeply appreciative that Carolina acknowledges support is still imperative when entering a graduate, Ph.D., or professional program—as it presents a distinctive set of challenges that continuing-generation graduate students may not endure. To any first-generation undergraduate or graduate student, I encourage you to take advantage of these programs on your campuses. Be present, network, and use these opportunities to take a break from the stressors of academic work and engage in various topics. Furthermore, highlight any areas where you may need additional support so that first-generation programs can continue to make an imprint of the lives of first-generation students at any level."
---
We welcome you to learn more about our Carolina F1RSTS & Carolina Grad Student F1RSTS programs. Also, this feature details the First-gen Forward Advisory Institution designation.