Moving "Iam1stGen" Forward at Pitt Community College
Travis Kinsey M.Ed., / The Center / January 17, 2020
---
Travis Kinsey, Director of TRiO Programs and the First Forward Development committee continues to move "Iam1stGen" forward. The "Iam1stGen Campaign," which got underway in August of 2018, includes TRiO's Student Support Services and Educational Opportunity Center initiatives collaborating with the college's Title III Grant project to increase awareness of first-generation college students while making them feel at home on campus.
"The goal of the 'Iam1stGen Campaign' is to build a stronger first-generation campus community," says PCC Director of TRiO Programs Travis Kinsey. "This effort will give students, staff and faculty members an opportunity to build an invaluable network of peers, while enhancing social support, advocacy, leadership and academics among first-generation college students."
"Being a first-generation college student and/or graduate is something to be celebrated," Kinsey said. "Our goal is to continue providing opportunities for excellence amongst our first-generation student population." The Iam1stGen campaign in addition to a conglomerate of programs and services led the way for Pitt Community College to become a First-gen Forward Institution.
The campaign consisted of:
1st Gen Friday's: monthly Social and Cultural Events
1st Gen Fellows Mentoring Program: Partnering 1stGen Faculty and Staff Members with 1stGen students
1st Gen Lecture Series: Lecture Series for faculty and staff members
---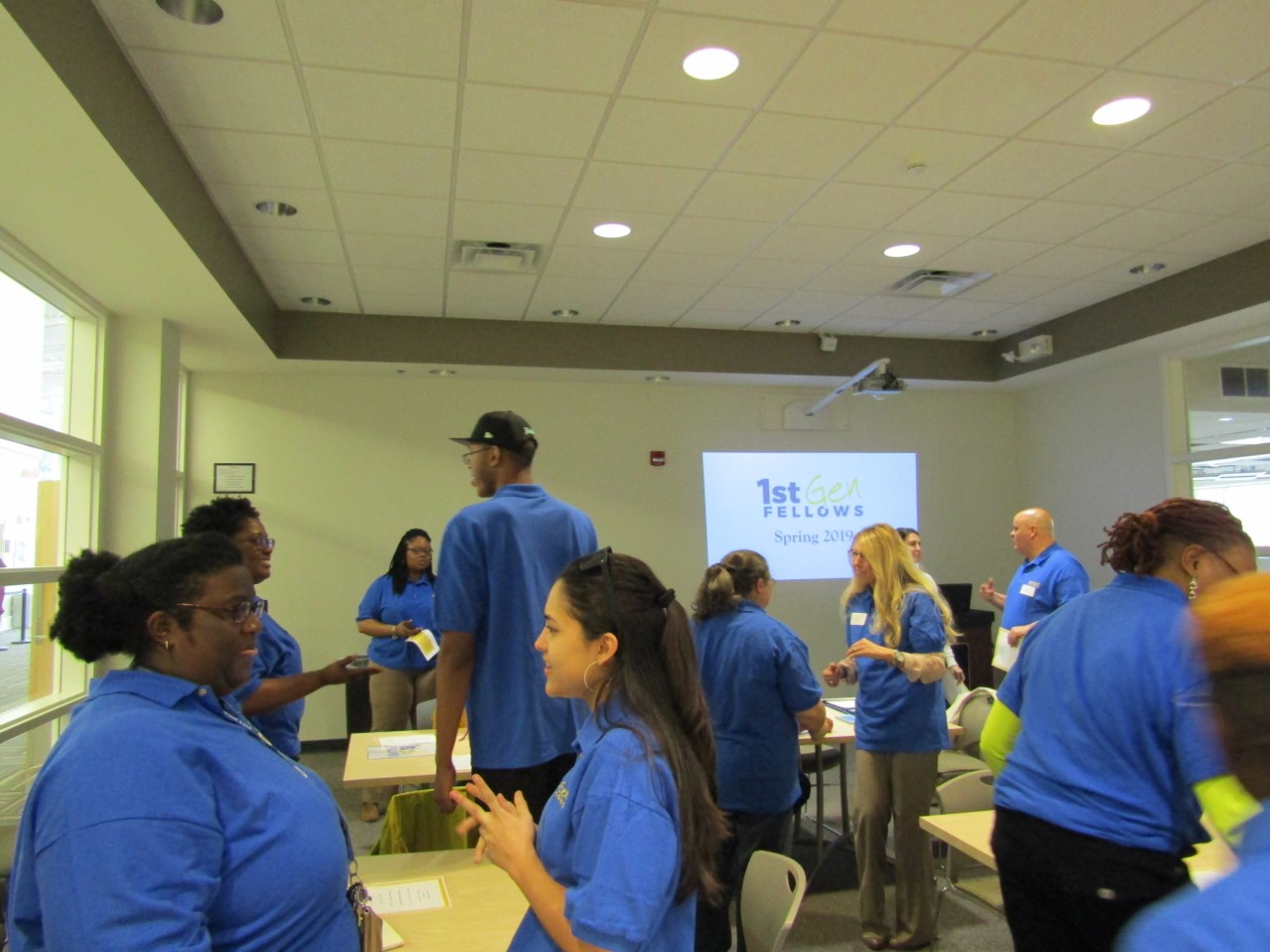 1st Gen Friday's are opportunities for first generation faculty, staff, and students to fellowship.  Several events took place throughout the year
Motivititional Rock Painting were attendees painted inspirational painting on rocks to encourage each other to "Rock Out" the semester. 
Live at Leslie were attendees had the opportunity to show case their talents in an open mic setting.
America's favorite game "Family Feud" rounded out a semester of first gen fellowship. 
---
1st Gen Fellows Mentoring Program provides individualized support to students who identify as first in their family to attend and to plan to graduate from college. The program empowers first generation college students by a) encouraging students to partake in self-discovery and goal setting activities, b) elucidating barriers that make exist in first gen college life, c) facilitating engagement in campus activities and with campus resources, d) enhancing leadership skills, and e) developing meaningful partnerships with community college professionals.
1stGen Fellows pairs a faculty or staff mentor with first-generation students. This mentor-mentee partnership may include, but is not limited to academic guidance, professional development, personal development, physical health, and emotional health.
Increase faculty-student interaction in an effort to increase transmission of professional intangibles such as commitment to excellence, integrity, ethical behavior, honesty, diligence, and pride of craftsmanship.
Above all, expose first-generation students who participate in the program to the wide variety of professional opportunities available post-graduation
---
1st Gen Lecture Series served as dedicated professional development for faculty and staff highlighting various strategies and concepts to enhance the experience of first-generation college students. Participants received a certificate of completion designating them a First Forward Advocates.
Title: "I Belong, Too!" Engaging the First-Generation College Student
Description: "Who are first generation college students? Today, approximately 50% of students attending higher education institutions are first generation. Yet, these students face unique experiences and challenges.  Therefore, it is imperative for faculty and staff members to create meaningful engagement opportunities to enhance student success.  To achieve this goal, educators must understand the college experience from individuals who are considered the original aspirants of change "first generation college students". Additionally, cultivating a sense of belonging is essential in elevating first generation students' ability to reach their true potential.   Through the lens of the Adult Learning and Student Integration theories, this presentation will define first generation students; explore college from the first-generation perspective, and present strategies to create a sense of belonging.
Presenters: Dr. Pamela Edwards, Math Academic Specialist, Student Support Services; Vanessa Pippen, Coordinator, Educational Opportunity Center; and Kimberly Moody, Outreach Specialist, Educational Opportunity Center
Title: "We Get You, We Got You": Becoming an Institution of Advocacy and Support for First-Generation College Students
Description: Today, nearly one-third of college students in the United States are first in their families to attend college.  Additionally, first-generation college students are more likely to attend a community college versus a four-year institution.  Therefore, this interactive session will provide an avenue for faculty and staff members to develop a culture of advocacy for first-generation college students at 2-year institutions.  Furthermore, an emphasis on the awareness and sensitivity to the needs of this population will be highlighted throughout the session, with the end goal of increasing advocacy and support. Moreover, the Nevitt & Sanford's "Challenge & Support Theory" will spearhead the conversation of new and emerging strategies to achieve maximum growth amongst first-generation college students.
Presenters: Jessica Simms, Administrative Assistant, Educational Opportunity Center; Amy Staton, Tutor Coordinator/Academic Specialist, Student Support Services; and Kim Waters, Counselor, Student Support Services
Title: From Recruitment to Commencement: Elevating the experience of First-Generation College Students
Description: Educators and politicians nationwide are urging colleges and universities to recruit and graduate a larger share of first-generation college students. In fact, this population makes up 30% of all college students. Additionally, University Business Magazine states that 24% of those students are in fact low income and first generation. Furthermore, the National Center for Education Statistics shows that 11% of first generation, low-income students graduate within the first six years. Through engaging conversation and exercises, this session will explore strategies to enhance recruitment, retention, and completion of first-generation college students.
Presenters: Starlena Fornis, Administrative Assistant/ Data Specialist, Student Support Services; Sandra Saunders Smith, Outreach Specialist, Educational Opportunity Center; and Brett Lilley, Outreach Specialist, Educational Opportunity Center 
Data Tells the Story of First-generation Data at Pitt Community College
Fall 2018 Curriculum Students

First-generation

Total

Percent

Yes

1722

20.67%

No

6609

79.33%

Grand Total

8331

100.00%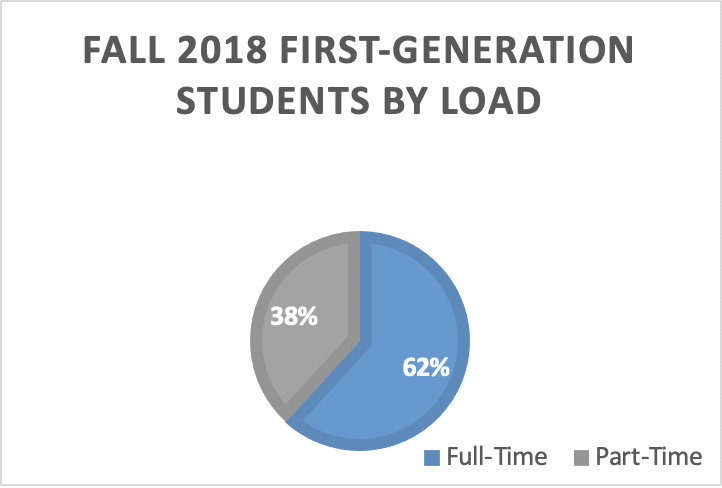 | | | |
| --- | --- | --- |
| Retention | Total | Percent |
| Fall-to-Spring | 1319 | 76.60% |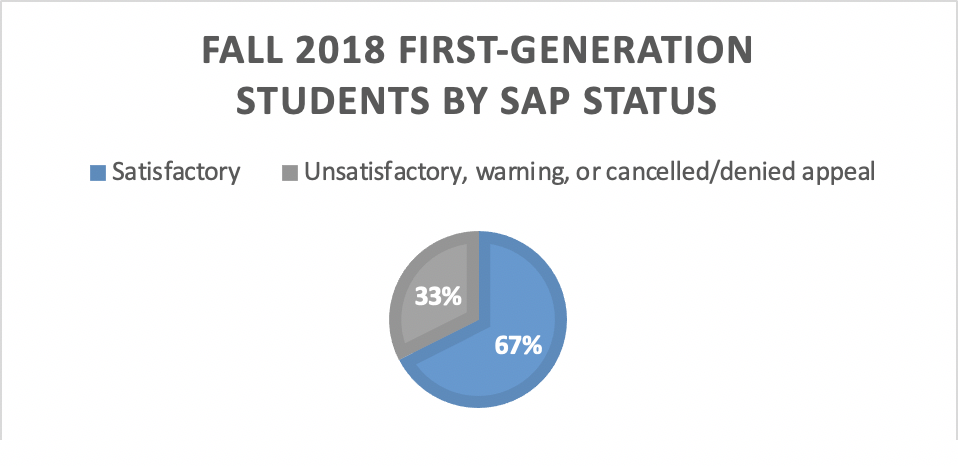 Data 1stGen Fellows Mentoring Program
| | |
| --- | --- |
| Retention | Percent |
| Sping19-Fall-19 | 72.73% |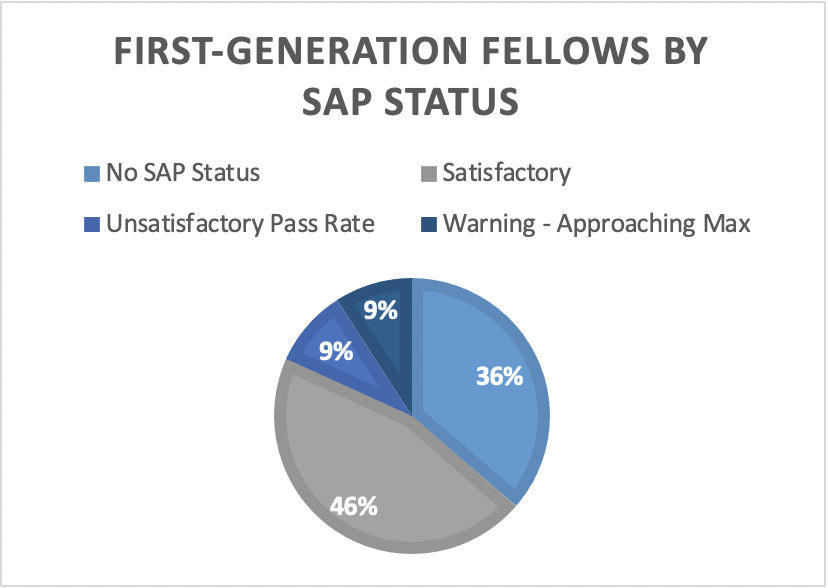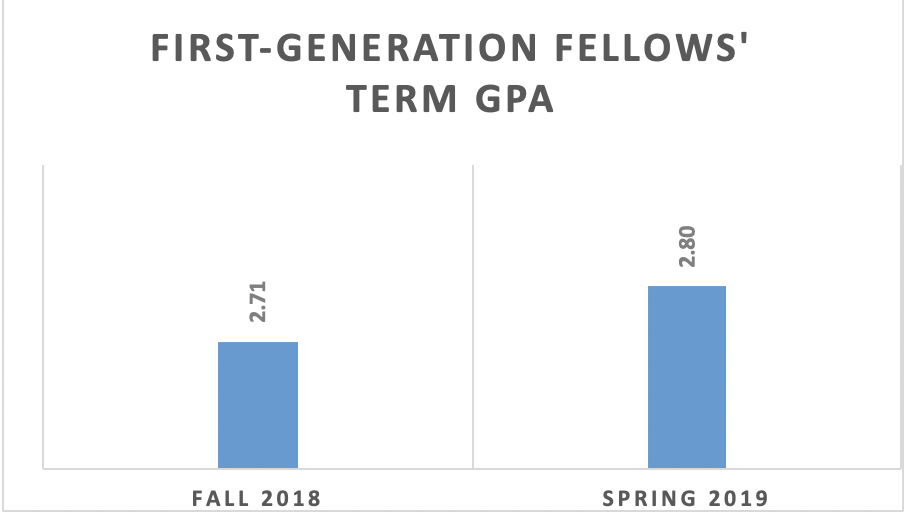 TRIO Programs at Pitt Community College
TRIO: Student Support Services has served students on the campus of Pitt Community College since 2005. Student Support Services is grant-funded through the United States Department of Education. Through this grant, the program is able to serve 160 students per academic year. Students are selected for the program based on the eligibility criteria and their academic need. Students must be first-generation, low income or have a documented disability in order to receive services.
Student Support Services offers holistic programs and services to students in an effort to promote academic achievement and social development. The following services are available to all program participants: counseling and academic planning, tutoring, leadership development, workshops, financial literacy, college campus tours (transfer options), career planning and cultural enrichment opportunities are available each semester. 
In addition to those services, specialized programs are offered during the academic year. The National First-Generation College Celebration, Student Awards Day, Christmas Sponsorship Program and Open Mic are just a few events designed to recognize and support TRIO students on the PCC campus.
What does the data say about TRiO; Student Support Services at Pitt Community College
| | | |
| --- | --- | --- |
| Objective | Goal | Outcome |
| Persistence | 70% | 99% |
| Good Academic Standing | 70% | 84% |
| Transfer Rate | 25% | 13% |
| Graduation Rate | 30% | 32% |
TRiO: Educational Opportunity Centers program provides counseling and information on college admissions to qualified adults who want to enter or continue a program of postsecondary education. The program also provides services to improve the financial and economic literacy of participants. An important objective of the program is to counsel participants on financial aid options, including basic financial planning skills, and to assist in the application process. The goal of the EOC program is to increase the number of adult participants who enroll in postsecondary education institutions.
Those who are eligible to participant in the program include; first-generation students, income eligible, high school seniors, veterans and transfer students. Additional services provided by the TRiO: Educational Opportunity involves offering information on post-secondary educational programs, assistance with completion of college admission application, assistance with completion of FA application, and career assessments.
What does the data say about TRIO: Educational Opportunity Center at Pitt Community College?
| | | |
| --- | --- | --- |
| Objective | Goal | Outcome |
| Secondary Diploma | 25% | 100% |
| Financial Aid Applications | 75% | 89% |
| Post-Secondary Admissions | 65% | 100% |
| Post-Secondary Enrollment | 55% | 98% |
Pitt Community College Technical Academy
Target Audience: First-Generation/Low-Income
Pitt Community College and Pitt County School administrators began developing the Technical Academy during the 2017-18 academic year. It started as a pilot program, and one of the goals was to gauge interest and determine how well students performed academically in college-level courses.
The decision to develop the Academy was a combination of employers needing a pipeline of talent, and Pitt County's need to increase educational awareness to underrepresented populations. Currently, the academy is made up of four programs, Industrial Systems Technology, HVAC, Computer Integrated Machining and Electrical Systems Technology. At the present, the programs are limited to ten students per program. There are also stipulations to enter the program, which include an application process, minimum GPA and an interview with the program director. Entrance into the program is competitive because we want to identify students that will see the program to its end and ultimately join the workforce. In addition, capping the number of participants allows PCC instructors to offer students personal instruction and help them find pre-apprenticeship opportunities.
Students selected for the academy attend classes from 9:00am to 11:00am M-F, and the students are bussed to and from classes. The tuition for the classes is totally free, as is books and transportation. We set up the academy in an effort to give every child in Pitt County an opportunity to earn a technical degree regardless of the family's financial situation. We also worked out the schedule for the academy to align with the K-12 school rotation and calendar. This was very important because we knew many of the kids, we were targeting had family responsibilities after school hours.
Currently for 2019, the academy has 43 students enrolled, which is a 73% increase from the pilot year of 2018. We are in the process of expanding into Architectural Technology for the 2020 academic year. The decision to expand into architecture was due to the reduction in drafting classes at the secondary level coupled with the demand of local employers needing this particular skill-set.
After we started the 2019 academic year, we did surveys mostly in the interest of recruiting, and to get a baseline of where our students were coming from demographically. What we noticed was a trend of first-generation students entering our academy's programs. I surveyed two of my programs (IST & HVAC), which actually had 25 students for both, I categorized the population into race, mother's educational level, and the schools recruited from. I chose to use mother's level of education due to it being a constant in the home.
Based on the minority numbers from the surveys taken and normal racial comparisons here at PCC, I would contribute the increased results to both educational accessibilities, and the manner in which the recruitment for the 2019 enrollment was conducted. Currently, I am exploring ways to offer more support opportunities to these students. For example, academic tutoring, career mentoring along with minority male mentoring, and added support services currently only offered to post-secondary students here at the college.
From the provided survey data, I highlighted the Hispanic population currently enrolled in the Technical Academy. As you can see, 57% of the student's mothers never finished high school. So not only are we addressing the issue of a first-generation college perspective, but we are also addressing an issue of high school completion. I believe with this academy we are on the verge of not only bridging the educational gap for minority students, but we are also on the verge of seeing minorities with advanced technical skills entering a workforce that has historically been filled with a none-minority population.