FSU CAREs about First-generation Student Success
Tadarrayl M. Starke Ed.D., Florida State University / The Center / January 13, 2020
---
At Florida State University, the Center for Academic Retention & Enhancement (CARE) provides wraparound services for first-generation students from admissions to graduation. Housed within both Academic Affairs and Student Affairs, CARE's almost 300 employees work to address students' academic success, personal development, and campus engagement. Our comprehensive system of support has helped first-generation college students at FSU realize a 95% first-year retention rate and 80% six-year graduation rate!
"CARE gave me inspiration in times when I doubted myself…faith and direction when I didn't know what was next for me. They enabled me to explore the many resources FSU had to offer and has given me knowledge, support, and a new perspective on what it means to pursue a college degree and have a college experience. Throughout my time here at Florida State, I have gained a family and a place to call home. CARE has transformed a kid…to a young professional that can conquer anything." ~ CARE Graduate
CARE operates multiple programs and services to ensure students have what they feel will help them be successful in their pursuit of a college education. Beginning in middle school with our Pre-Collegiate Division, CARE implements activities to connect potential first-generation college students to resources that prepare them for a post-secondary education. Our Summer Bridge Program provides transition services to over 400 students each summer. As an alternative admissions system that directly admits students to the University, Summer Bridge helps FSU fulfill its commitment to access for students who are traditionally underrepresented in higher education while preparing them for a culture of success in the college environment.
CARE's commitment to first-generation student development and success continues beyond the summer. The CARE Tutoring and Computer Lab provides academic assistance for students during their basic division years. Students have access to computers, free printing services, free tutoring, and general education course textbook reserves for checking out. The CARE Lab also offers small group academic workshops on various skill development topics such as time management, academic goal setting, and test preparation, and is open 80 hours per week.
The CARE College Division oversees Academic Advising, College Life Coaching, and Financial Aid Advising. CARE Academic Advisors serve as an additional advisor for our first-generation students to ease the transition into their major and support them through their degree path. College Life Coaches specialize in helping students navigate non-academic engagement at FSU, working to ensure students are maximizing their collegiate experience. CARE's Financial Aid Specialist assists our students with all things financial aid and helps students take control of their money management through one-on-one and group activities. CARE Courses allow our first-generation students to complete their general education requirements in a small group setting focused on their individual success.
FSU developed the Unconquered Scholars Program to ensure that students previously classified as foster care, homeless/unaccompanied, relative care, or ward of the State were connected to a community of students, faculty, and staff to provide additional support. Students' engagement with the Unconquered Scholars Program encourages educational success and connections to the campus community. This program has realized an 85% six-year graduation rate and 100% post-graduation employment or graduate school enrollment of participants! Student Support Services (SSS) and SSS-STEM are housed within CARE to provide targeted first-generation college students with additional opportunities to connect to academic support and campus resources that help ensure their retention and graduation from FSU.
"The CARE department has not only provided me with so many opportunities but has granted me a family away from home and the support system that I never had in my life. I am forever indebted to those who have encouraged me to tap into my potential and believed in me when I did not believe in myself." ~ CARE Senior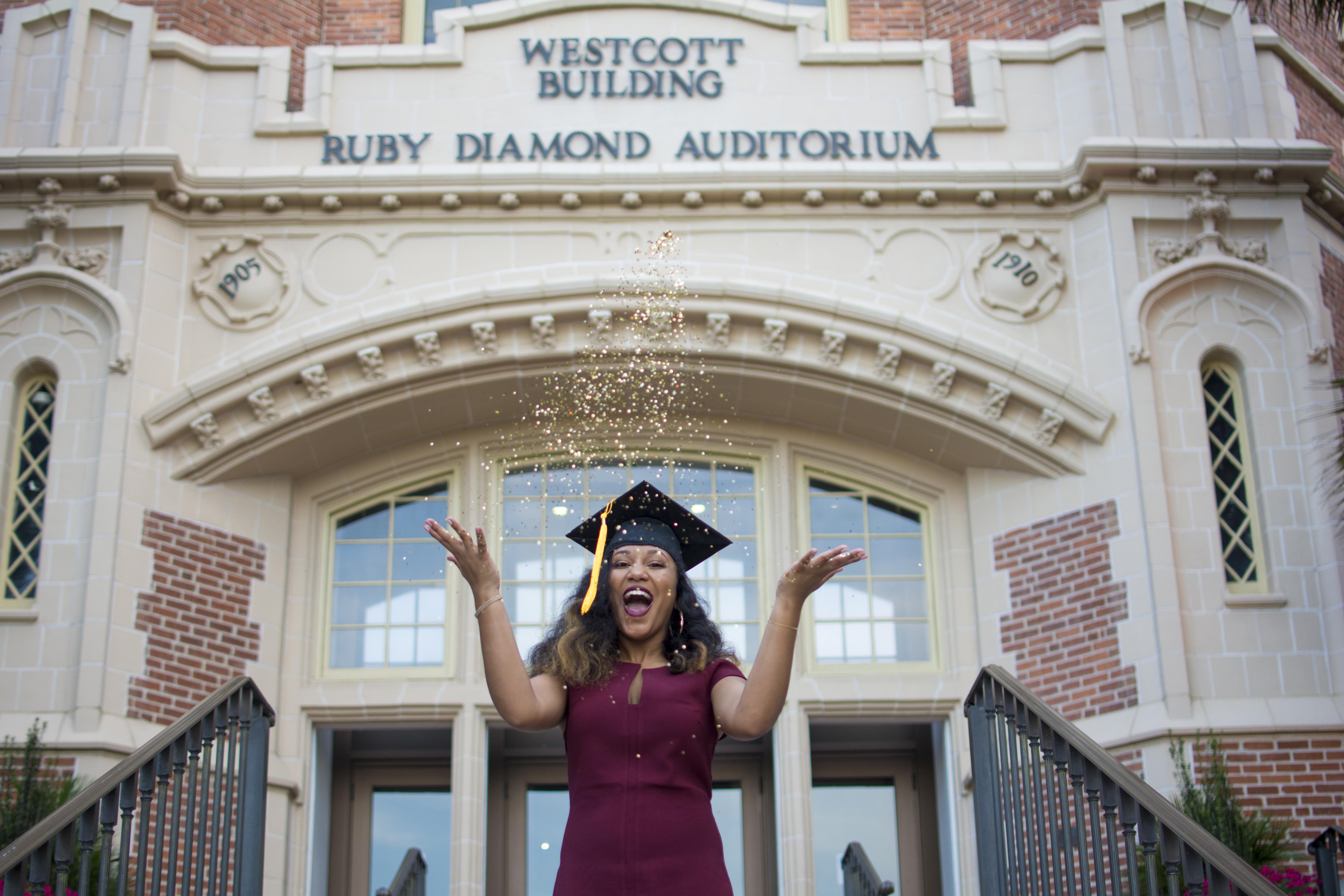 The support for first-generation college students through CARE help FSU realize a high level of student success. However, the services are nothing without the relationships that faculty and staff from across the campus build and cultivate to make students feel they belong and are valued members of the FSU community. The culture of connections among first-generation students is pervasive on the FSU campus. From the moment a first-generation student applies, they are surrounded by a community of professionals focused on supporting their needs and encouraging their success from acceptance through to their post-graduation lives. We pride ourselves on helping first-generation college students find their voice and use their gifts for their success, as well as the success and support of others. It's about more than the metrics of first-generation student success at FSU. It's about the individual lives of each student and the educational legacy that they are building within their communities and their families.
For more information about CARE and first-generation student support at Florida State University, visit our website.