Pepperdine Celebrates "Waves of Resilience" on National FGCC Day and Everyday
Nataria T. Joseph Ph.D., Pepperdine University / The Center / November 13, 2019
---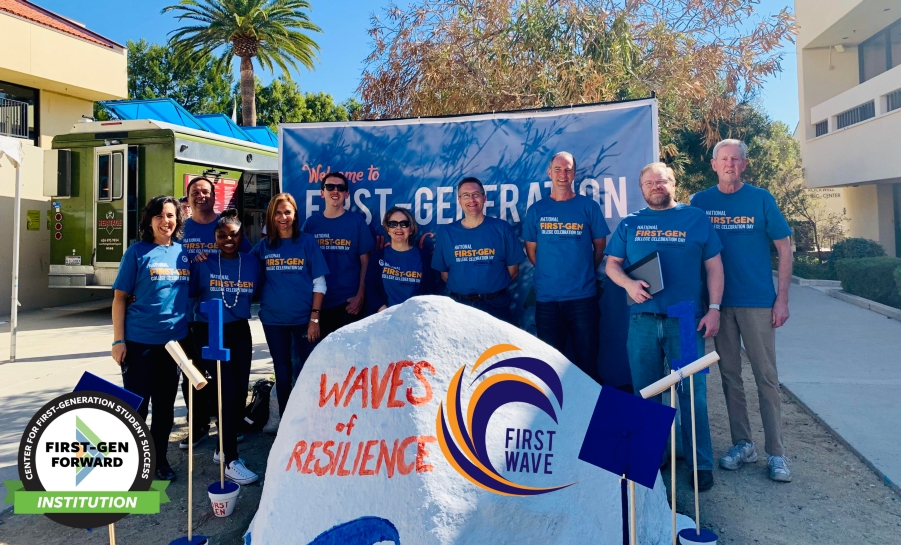 Pepperdine University celebrated National First-Generation College Celebration Day for the first time this year thanks to a collaboration between the First Gen Student Club, Student Success Center, Dean's office, and faculty. The theme was "Waves of Resilience." In addition to swag and food, participants wrote messages responding to either "I am proud to be first-gen because…" or "I support first-gen because…" This celebration brought smiles, reflection, thoughtful sharing, and time to simply reunite with friends and just "be." Awareness of this celebration also planted seeds that kindled intellectual curiosity among those who do not identify as a first-generation college student (FGCS) and personal reflection among those that do.
For example, three weeks prior to the celebration, we notified faculty that they could participate in the celebration by wearing t-shirts, discussing this celebration and the Higher Education Act of 1965 in classes, and visiting the celebration space to write notes of support for first-gen students. From that moment on, my faculty colleagues engaged with me in rich dialogues at every turn. I learned many narratives from my colleagues who did and did not identify as first-gen. One in particular shared that their father had to forego an education to support his family during the Great Depression, another whose father fought for him to be allowed to attend college rather than be tracked into a vocational path that he did not desire.
During the actual celebration, I observed many brief but meaningful exchanges between various campus stakeholders. All dialogue leading up to the celebration and observation during the celebration demonstrated that our celebration met the very spirit behind the creation of this national celebration. It gave students, faculty, staff, and administrators whose first-generation identities are not ordinarily salient the freedom and permission to explore what this identity means to them and make personal decisions about whether to internalize this identity, with some becoming more closely identified and others stating they were "unworthy" of identifying as such because they hadn't had the same "struggles" as other first-gen students. This celebration provided opportunities to unpack these experiences and other misconceptions.
Pepperdine will be able to capitalize on the awareness created by this large scale celebration because we have several initiatives in place (together known as the First Wave program) that focus on smaller scale "reachable moments".
Reachable moments (as I am repurposing it for this context) are pivotal moments in a first-gen student's experience when they happen to already be naturally interacting with someone who is a first-gen student advocate in some capacity. These moments can be novel, triumphant, or crushing moments for the student, all of which are times during which a first-gen student's trajectory can be altered for the better by guidance on framing the experience in the context of the first-gen student identity and knowledge about first-gen support on campus. Below are a few key (non-exhaustive) examples of Pepperdine's First Wave initiatives capitalize on reachable moments:
Everyday peer interactions with students in the First Generation Student Club and First Wave Ambassadors Program: Students spend more time with their peers then they spend with any staff or faculty. Peers are there during critical reachable moments. We hope some of these peers will be either from the First Generation Student Club or the First Wave Ambassadors Program. Marissa Davis from the Student Success Center implemented the First Wave Ambassador Program. Ambassadors through selected in a competitive process and complete peer mentoring training and bimonthly supervision and brainstorming meetings.
Interactions with faculty from the First Wave Advisory Council: The First Wave Advisory Council is composed of faculty, staff, administration, and student representatives focused on the academic flourishing and social connectedness across first-gen students. This fall we asked all first-generation faculty on the council to include a small primer on their own first-gen identity or narrative when they introduced themselves to their students on the first day of class. Some faculty reported that this led to reaching and empowering first-gen students.
"It was the best of times, it was the worst of times," (Dickens, 1859). For first-gen students, college can be the best of times because it is a time when new experiences, resources, and people abound. It can sometimes be the worst of times as first-gen students may be gripped by fear of being an imposter and being evaluated about every part of themselves that seems different – speech, appearance, values, and perspective. So, the challenge of administrators, staff, faculty, and advanced students is to determine ways to effectively reach students during these peaks and valleys. To celebrate the victories and offer support when they feel like giving up. Pepperdine is doing so by combining large-scale outreach like National First-Generation College Celebration Day with small-scale outreach like capitalizing on reachable moments.