UMBC's First-gen College Celebration Day 2020
Antoinette Newsome & Krista Wallace, University of Maryland, Baltimore County / The Center / November 08, 2020
---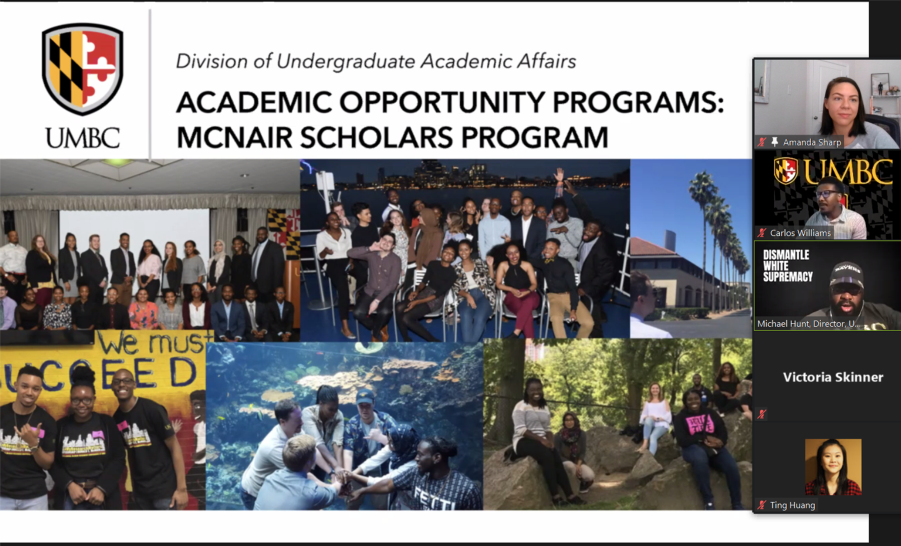 Our very first virtual first-gen day was a success!! Students from across the University of Maryland, Baltimore County's (UMBC's) campus were invited to a celebration where we recognized the success of first-generation college students, alumni, faculty, and staff.
Though this event was virtual, you could feel the energy and excitement of the students as soon as you signed in to the Zoom room. Staff and faculty were decked out in their gold and black and ready to have meaningful conversations with students. Not only was this an opportunity to celebrate, but it was also an opportunity to learn more about the offices on UMBC's campus that support first-generation students. There were five campus departments represented, which include Education Abroad, Career Center, Academic Success Center, McNair Scholars Program, and Financial Smarts. Our first-generation students got to engage directly with our staff members, make new campus connections, and ask questions that can further enhance their undergraduate experience. Additionally, there were over 24 faculty and staff volunteers who identify as first-generation to provide insight into their experiences that deepened their connections with the students in attendance. We were joined by Dr. Amanda Knapp, associate vice provost and assistant dean, Division of Undergraduate Academic Affairs and Dr. Yvette Mozie-Ross, vice provost, Enrollment Management & Planning, as well as Ms. Monique Ransom, associate director for academic advisor development and student transition programs, just to name a few.
Within this event, students were also provided a platform to network with other first-gen students and alumni. The event began with a large group discussion about what it means to be a first-generation college student. Many students were new to the term and didn't know they were first-generation college students until applying to college or even once they got to college. Students talked about the pressure and stress of being a first-generation student. There was no one to guide them through the college process, or even where to go after. The expectations from family and friends can be overwhelming and hard to navigate as first-generation students. While they expressed their difficulties, students also felt relief knowing they had peers with similar experiences. Students further engaged in breakout rooms that offered smaller dialogue spaces. This assisted those who may be hesitant to speak in larger groups. Faculty and staff were present, as well, to provide additional insight on their experiences and specific resources at UMBC that may not have been discussed by campus speakers during the workshop.
As a result of this event, students were able to connect with on-campus resources, connect with other first-generation faculty, staff, and students, and establish a new community of support that will ensure their progression and retention at UMBC.
---
For more information on the University of Maryland, Baltimore County's approach, please visit their website here.